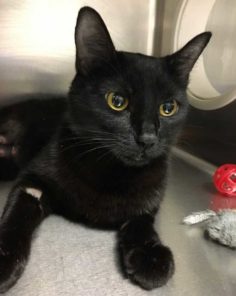 Keith and his family were determined to add a feline companion to the household, but they knew it wouldn't be an easy mission.
With two young kids and a large German Shepherd, Keith's family waited for just the right cat to come along.
They searched for a young cat with curiosity and patience. In November 2018, this young family found these traits in Catra at the BC SPCA Burnaby Branch.
A year later, Keith has written to us with an update on the challenges and successes they have had in becoming one tight-knit unit with their newest addition:
Last year I took my family down to several shelters to see if we could add a cat to our family. Both my girls (a one-year-old and a four-year-old) were extremely excited every time we went to a shelter, but it took weeks before we found our little Catra.
We needed a cat young enough to adapt to living with two young girls and an 85-pound German Shepherd (who had lived with a cat in the past). This was no easy task. Thankfully, we went to see if there were any new cats for adoption at the BC SPCA Burnaby Branch.
This is where we met our little black cat. Having just recovered from being spayed and having a litter of kittens, Catra was a small, scrawny cat with two shaved patches on her front legs from the operation.
Despite this, she was extremely friendly and silky soft. Catra purred loudly and chirped when we pet her. The only time she got upset was when she saw another cat and she hissed. Perfect—she would need a little spunk to deal with her big sister, our German Shepherd.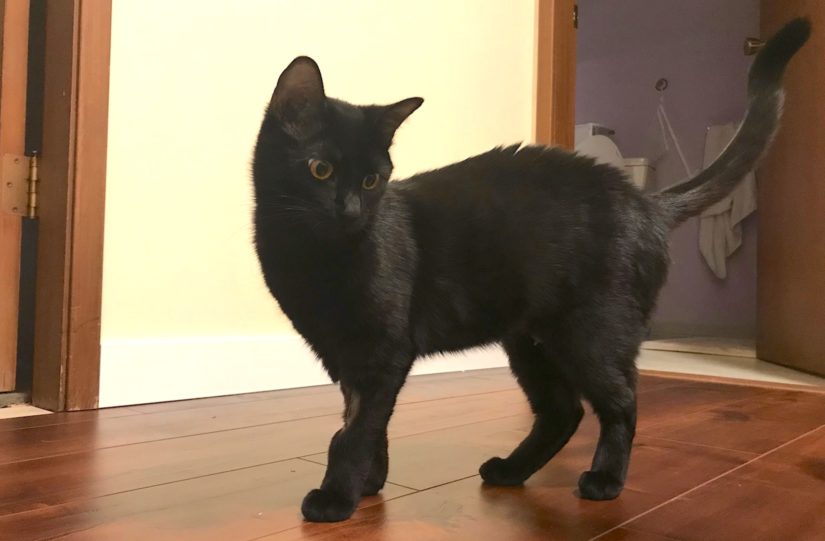 After chatting with the shelter staff, they told us Catra's history. She had lived in a warehouse and had her litter of kittens on some pallets. The staff commented on how friendly she was and encouraged us to adopt her.
We filled out the adoption papers right then and there. We planned to pick up Catra the next day once we had all the required kitty supplies. My children couldn't have been more excited.
The next day we brought Catra home and introduced her to her new life. She had her very own room with a large cat tower and a picturesque view of the North Shore mountains to enjoy.
We let her slowly acclimatize to her new surroundings. It did not take long. Soon, Catra was exploring the entire upstairs and was keen to move to the main floor—if it wasn't for the dog.
At first, Catra was not thrilled about the very large animal living downstairs. She would immediately retreat upon seeing the dog. Eventually, her curiosity grew and she would venture down the stairs a little to stare at the dog.
Using a child gate to keep the animals separate and ensuring the dog never tried to chase the cat, I exposed them to each other for a few weeks before commencing "Operation Sisterly Love".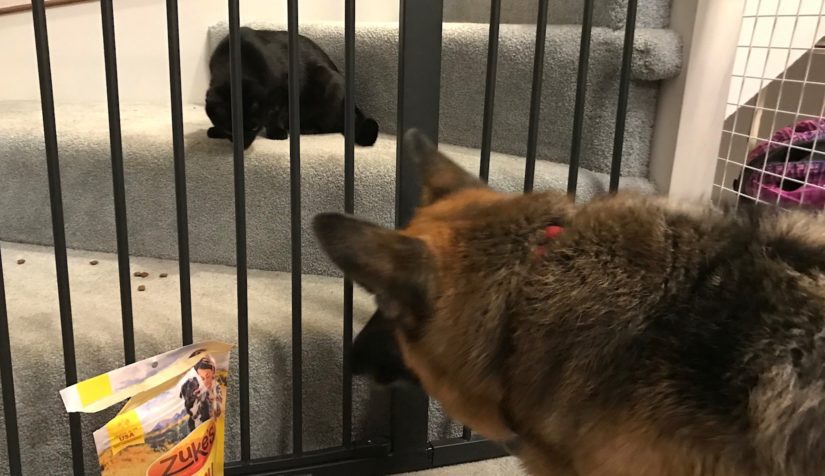 Over the first three months, I fed the cat and dog treats in close proximity to one another. I coaxed Catra closer to the dog until we got to a point to where the dog was eating treats from under the Catra's tail.
Eventually, Catra was no longer concerned about the dog and she proceeded to explore the rest of the house.
Now, Catra often plays chase with the dog and steals the dog's bed when the opportunity suits her. When we come home at the end of the day, the cat and dog both race to be the first to say hello.
Catra has also formed a very special bond with my two young girls. Every night she eagerly jumps on one of their beds and cuddles right in, resting her little chin on their legs and purring loudly.
Catra adores the girls' attention. She often purrs and chirps happily to them or plays fetch with them. She is very patient with them and she has never hissed at either of the girls.
My oldest daughter calls herself "cat mom" and makes sure Catra is fed and has lots of water.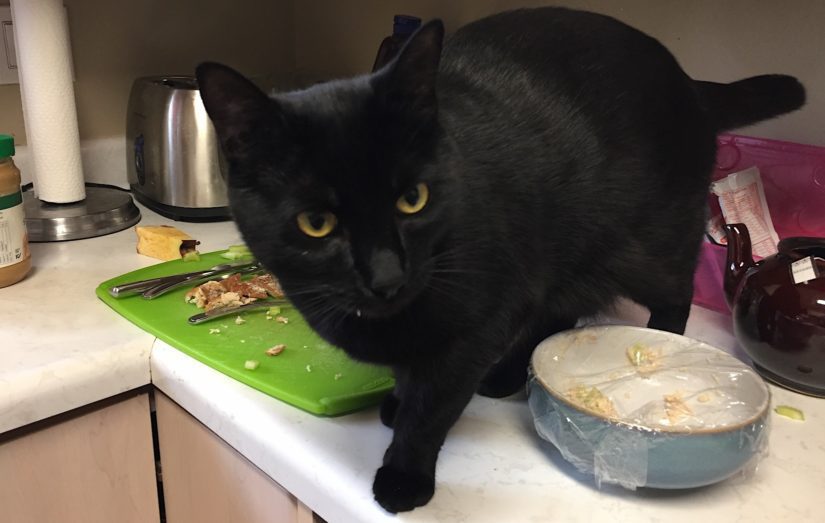 Catra has definitely become a part of the family. We couldn't have picked a better cat. We often find her sleeping on pillows in the girls' princess tent, playing chase with the dog or begging us for treats.
While there are times we may find Catra hanging from the curtains in an effort to catch a hummingbird's shadow, or we have to remind her she isn't welcome to help herself to the tuna on the counter, it's all part of the joy of having this little black cat join our family.
Thank you to you and your family, Keith, for adopting Catra and welcoming her into your home. We're happy to hear that all of your effort and patience you have put into making Catra feel comfortable has paid off. We love that she isn't afraid to let her true personality shine and adores snuggling up with all of her sisters. We wish you many more years of happiness together as a family.
Have you adopted an animal from the BC SPCA and want to share your joy with others? Submit your adoption story!