British Columbians are passionate about supporting the BC SPCA in fighting animal cruelty and improving animal welfare – and we've seen what a difference that support makes, especially in the final months of 2017.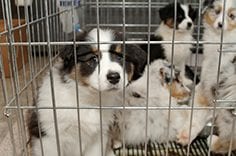 In December, the City of Vancouver banned the retail sale of dogs, cats and rabbits, following a similar move by the City of Delta in November. Surrey is currently considering a similar ban, while Richmond, New Westminster and North Vancouver already have bans in place.
"It is fantastic to see our province's municipalities stand up against the importation of puppies from mills and issues related to impulse purchases," says Amy Morris, BC SPCA manager of public policy and outreach.
"It shows how British Columbians – and those who represent them at all levels – want to see an end to inhumane practices such as unscrupulous breeding mills, poor transportation practices and the lack of socialization and care animals experience in pet stores."
On Dec. 18, the Province of B.C. announced the end of the hunting of grizzly bears throughout British Columbia, a move applauded by the BC SPCA.

"This issue has been top of mind and action for the BC SPCA and we have taken an extremely proactive approach on advocating for this result," says Marcie Moriarty, chief prevention and enforcement officer for the BC SPCA.
"We want to thank the government for listening to its stakeholders and to the more than 6,000 BC SPCA supporters who voiced their views through our advocacy action alert during the recent government consultations on the grizzly bear hunt. Their voices helped make a huge difference."
The BC SPCA's cruelty investigations department, which investigates more than 9,000 animal cruelty cases each year, has taken in 100 animals from cruelty cases in December alone, including companion animals as well as a large number of farm animals.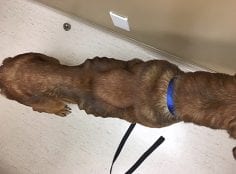 One of those cases, highlighted recently in the news, involved an extremely emaciated mastiff named Handsome, found shivering in the cold, tethered outside, surrounded by ice and snow, on Dec. 20.
Within hours of his story being spread by media, a single donor, Kymar Gutters Inc in Langley, generously donated $4,200 to cover the total medical costs associated with Handsome's care after hearing about him on News 1130. Any additional donations made toward Handsome's cause will go toward the BC SPCA's Cruelty Investigations Department.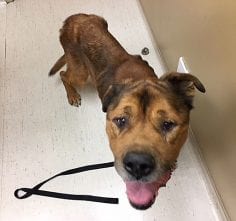 "We can't express how much our supporters' help matters, especially when it comes to animal cruelty investigations, for which the society does not receive any provincial funding," Moriarty says.
"Such generous gifts help ensure that we can continue to help the province's most vulnerable animals and help put an end to animal cruelty in B.C."