Both of his front legs are twisted at an awkward angle, making it hard for him to run and play like other dogs his age. Twister, a 10-month-old Rottweiler mix, came into care at the BC SPCA West Vancouver Branch as a stray with filthy, patchy fur.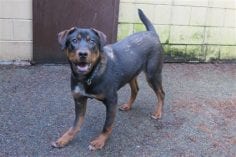 "His front legs are deformed due to an old injury that was either not treated or did not heal correctly, which makes it hard for him to run or play – it really limits his exercise and mobility," says BC SPCA West Vancouver manager Charlotte Ellice. "Twister is a lovely boy! He's very exuberant and only wants to play."
Twister will need surgery to correct his legs, but once he has healed and recovered, he'll be looking for a forever home, Ellice notes.
The medical costs associated with Twister's treatment and care are estimated to be more than $11,000. A non-profit organization, the BC SPCA relies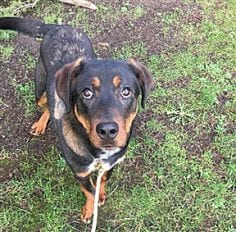 primarily on public donations to carry out its life-saving work helping the province's most vulnerable animals.
"We just want Twister to have the chance to be the puppy he hasn't had the chance to be," Ellice says. "He still has a lot of love to give and life to live and we want to help him do just that."
If you can help Twister and other animals like him at the BC SPCA West Vancouver branch, you can donate online at spca.bc.ca/medicalemergency or in person at 1020 Marine Drive, West Vancouver.
*UPDATE*
Thank you to the anonymous individual who donated nearly $10,000 to Twister's campaign, as well as the many others who supported him reaching his goal.