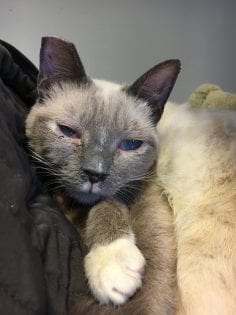 The Victoria SPCA is caring for 56 cats surrendered by their guardians last week.
"Our officers were called to attend a Victoria property where the cats lived and the couple cooperated fully in surrendering the animals for care," says Annie Prittie Bell, manager of the Victoria SPCA. "The cats were found in overcrowded and unsanitary living conditions, with many of them suffering from dehydration and untreated medical conditions."
Earlier this week the Victoria SPCA transferred all other cats in the facility to other SPCA shelters in order to make room for the influx of cats from the surrender.
"The shelter is still open but we are closed for adoptions so that our staff and volunteers can focus on the work of assessing and treating the 56 new arrivals," says Prittie Bell.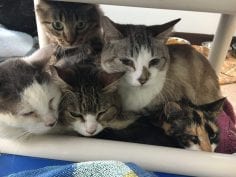 Individual assessments and treatment plans are being carried out for each animal. Once the animals are healthy they will be available for adoption.
"This influx of cats has definitely put pressure on our shelter and we really appreciate any help the public can provide in helping with the costs for these animals," says Prittie Bell.
Update: All the cats have been fully assessed and the Victoria branch is in need of $30,000 to cover their care. Many need extensive medical care and plenty of recovery time to learn to trust and love again.
If you want to help, you can donate online or drop your donation off at the shelter at 3150 Napier Lane, Victoria.