Warning: graphic image.
A Victoria couple has been charged with animal cruelty after their badly neglected dog was found near death and brought to the BC SPCA.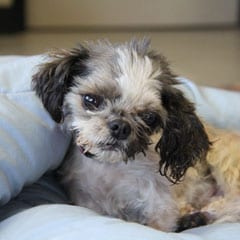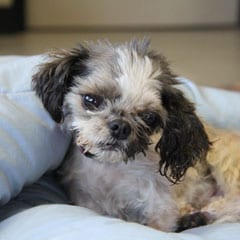 Douglas and Enza Pattison were the owners of "Tiny", a ten-year-old black and white shih tzu, who was turned in to the Victoria SPCA shelter on Aug. 2 by a Good Samaritan who found her wandering on Prior Street.
The dog was suffering from such badly matted fur that her paws and the base of her tail were covered in massive, open wounds infested with maggots. Tiny was also so badly dehydrated that her kidneys and other organs were shutting down and she was suffering from horrific dental disease due to neglect.
"With around-the-clock veterinary treatment and amazing care in her foster home her condition stabilized somewhat and we were so hopeful that she would recover," says SPCA constable Erika Paul.
"Despite the incredible efforts made on her behalf Tiny continued to struggle for three months and finally her health deteriorated to the point where she had no energy or will to continue and she was having to be force fed. At that point, the only humane option was to relieve her suffering through euthanasia."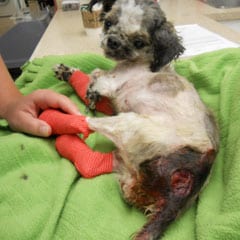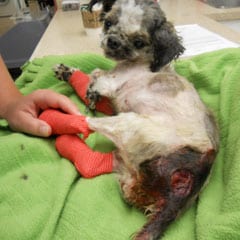 Paul says Tiny's story is heartbreaking because all of her life-threatening health issues were completely preventable. "I just can't comprehend why anyone would allow a little dog to become so sick without intervening. It is horrible to think of how much Tiny suffered before she was rescued."
Paul adds that once Tiny was in SPCA custody, those involved with her care did everything possible to help her recover. "Sadly Tiny was just too sick and wasn't strong enough to fight her way back."
If convicted, the Pattisons face up to five years in jail, up to a $75,000 fine and a ban on owning animals.
Photo caption (top): Tiny, badly neglected Shih Tzu, during her struggle to recover. Photo credit to Wendy Nesbitt
Photo caption (bottom): When the BC SPCA found Tiny, the base of her tail were covered in massive, open wounds infested with maggots
The British Columbia Society for the Prevention of Cruelty to Animals is a not-for-profit organization reliant on public donations. Our mission is to protect and enhance the quality of life for domestic, farm and wild animals in B.C.