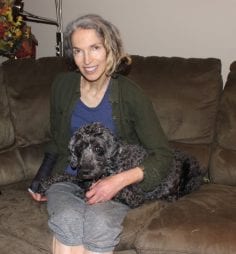 Dr. Vicki Romanin has always been a self-proclaimed "hard core animal lover." Growing up Vicki and her family always took in and cared for stray animals and she is proud to say she's never purchased an animal. Knowing that so many animals needs homes, Vicki and her family believe strongly in the "adopt, don't shop" philosophy. In addition to her human family, Vicki shares her home with a dog, a cat, two chinchillas, a fish and a horse.
Vicki has supported the BC SPCA since a visit to a branch many years ago. For 15 years, Vicki has been a BC SPCA monthly PAW Plan member. "That visit touched my heart," she says. "It's mind-boggling, the work that the BC SPCA does."
A big believer in the BC SPCA's spay and neuter programs, Vicki says "babies are cute, but there won't be any born in our house!"
Vicki has also recently become more and more concerned about factory farming and is really excited about the work the BC SPCA is doing for farm animals, especially with the recent stories in the news. She loves the SPCA Certified program and wishes more grocery stores in her community and across BC would supply SPCA Certified foods.
Thank you Vicki, for your compassion and care. Your generosity continues to make a difference on behalf of the 100 million farm animals raised each year in B.C.
For more information on our
Generosity in Action
program, please contact
Erin Walkey
, Director of Philanthropy, Revenue Development 1-800-665-1868.