Vancouver SPCA introduces cat portals, increases welfare for shelter cats
During late October, the BC SPCA Vancouver Branch underwent an exciting renovation to its cat housing facilities which included the installation of new "cat portals."
By installing PVC portals between adjacent cages, the Vancouver SPCA has now converted all single stainless steel cages into double compartment housing units; the result is a twofold increase in living space for every shelter cat.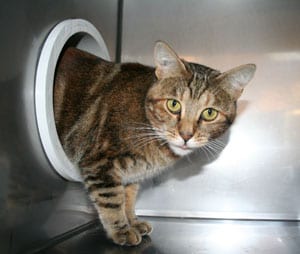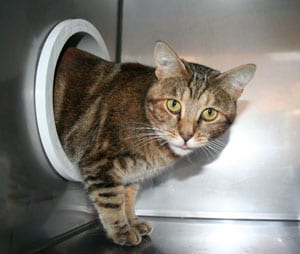 These cat portal units are the first of its kind for the society and were made possible, in part, by a generous grant from The Margaret Haney Fund at the Vancouver Foundation.
Charlotte Ellice, branch manager, has already noticed the benefits of the renovation. "Immediately following installation of the cat portals, we could see the cats are happier and more relaxed."
Ellice also notes that cats enjoy space to stretch, sprawl, and play – all of which are facilitated by this additional legroom.
Not only are cages now double their original size, but also this new housing ensures cats' food and litter areas are kept in separate compartments of the unit. The result? Increased cat welfare and happier shelter cats.
"Staff and volunteers have noticed how peaceful and stress-free the cat adoption room is with the new cat portals. Along with the tranquil atmosphere, we've also seen an increase in grooming activity. This is an important sign that a cat has good welfare, as cats are less likely to groom if they're stressed."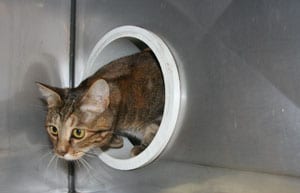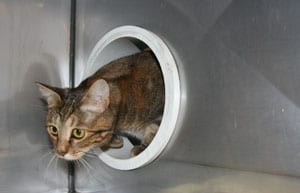 Happy cats could also mean more adoptions. "With the introduction of the cat portals, I'm predicting shorter lengths of stay for the average Vancouver SPCA shelter cat. After all, the happier the cats are, the better they connect with prospective adopters and the faster they go home. It's win-win."
According to the American Society of Shelter Veterinarians, "poor cat housing is one of the greatest shortcomings observed in shelters and has a substantially negative impact on both health and well-being." To answer this situation, veterinarians at the University of Southern California- Davis pioneered the concept of the cat portal, a passageway linking two cat cages that doubles the space available for each cat.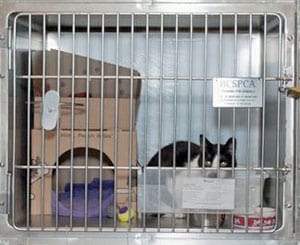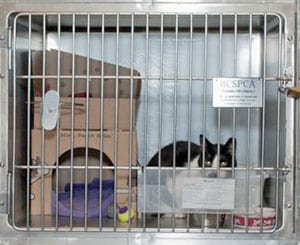 Bob Busch, BC SPCA general manager, operations, states that "the BC SPCA is constantly examining new animal housing concepts that are developed. Dr Kate Hurley and her associates at USC-Davis have been an incredible resource to us in this regard, and we are proud to be one of the first humane societies in Canada to implement her concepts and raise our shelter standards."
The Vancouver SPCA would like to give thanks to their generous supporters as well as Mike Ratledge for his time and services while installing the portals. In addition, special thanks goes to Allweld Mobile Welding Ltd., Smith Industries Ltd., and Corix Plastics Ltd. for their help.
Photo caption (top): Sunny Girl, cat, testing out the newly installed cat portal
Photo captions (second to top): Sunny Girl, cat, enjoying the additional space of her double compartment housing
Photo caption (third to top): Sunny Girl, cat, testing out the newly installed cat portal
Photo caption (bottom): a single-unit cat cage before the renovation
Check out more photos of the renovation: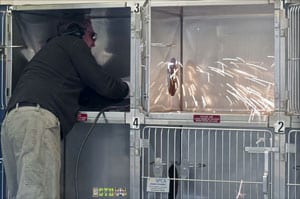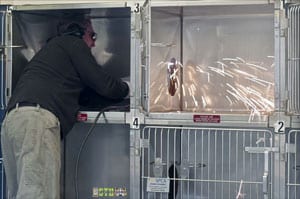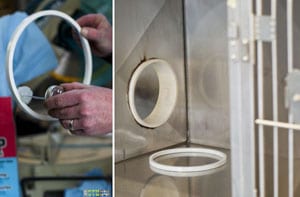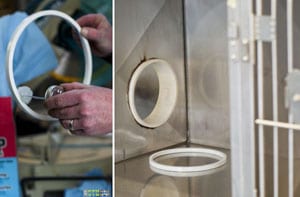 Photo captions (above): installing the cat portals
The British Columbia Society for the Prevention of Cruelty to Animals is a not-for-profit organization reliant on public donations. Our mission is to protect and enhance the quality of life for domestic, farm and wild animals in B.C.