Who can forget the image of the abandoned puppy sleeping on rocks and dirt under an uninhabited trailer. He was one of 12 puppies and two young moms found by a good Samaritan in July, sheltering from 30-degree-heat, on the side of the highway in Prince Rupert.
"The good Samaritan who found them gave them food and water and contacted us to see if we could take them," says Joe Griffith, manager of the Prince Rupert BC SPCA animal centre. "We said yes and did an emergency intake of the 14 dogs."

The dogs were seen by a veterinarian who noted pressure sores on the moms' elbows and some muscle degeneration in the puppies. "They think this may be caused by the moms and the puppies being kept in a kennel," says Griffith. The puppies were also bloated with worms and one of the puppies had a very low body score and needed to be put on a feeding plan to safely gain weight.
"This was a lot of dogs for the Prince Rupert animal centre, or any centre for that matter, to intake at one time," says Griffith. Using the BC SPCA's Drive for Lives program, five of the puppies were transferred to the BC SPCA's Sunshine Coast animal centre, three went to Richmond and the two moms were transferred to Burnaby. Three of the puppies remain in Prince Rupert and one was sent to North Cariboo. Each year, the BC SPCA transfers more than 4,000 animals between our animal centres. Animals may travel within their own region or longer distances to increase their chances of finding new homes or to access veterinary treatment.
What a difference a few weeks makes – all five of the puppies that were transferred to the Sunshine Coast animal centre have been adopted!
One of the young pups, Kevin, was adopted by Doug and Christine who have a family of rescued animals. "We have adopted all of our pets from the Sunshine Coast animal centre," says Doug. "We had been looking for a friend for our two-and-a-half-year-old dog Otis when my wife Christine found the puppies on the BC SPCA's website and showed them to me. I loved the idea of adopting one of them and adding them to the family."
Christine sent in an application, and they were called to go down to meet the puppies. "When we got there, only Kevin (now Milo) was left," says Doug. "He ran straight up to Christine, and we knew we had to take him home."
When they brought Milo home, Otis was waiting to meet him. "Otis liked Milo immediately," says Doug. "Milo was a little intimidated by his size, but it didn't take long for him to get comfortable and try to steal Otis's bone or move in on his food. Otis takes it all in stride." Doug says that Otis dangles toys in front of Milo to get him to play and the two spend hours together in the backyard.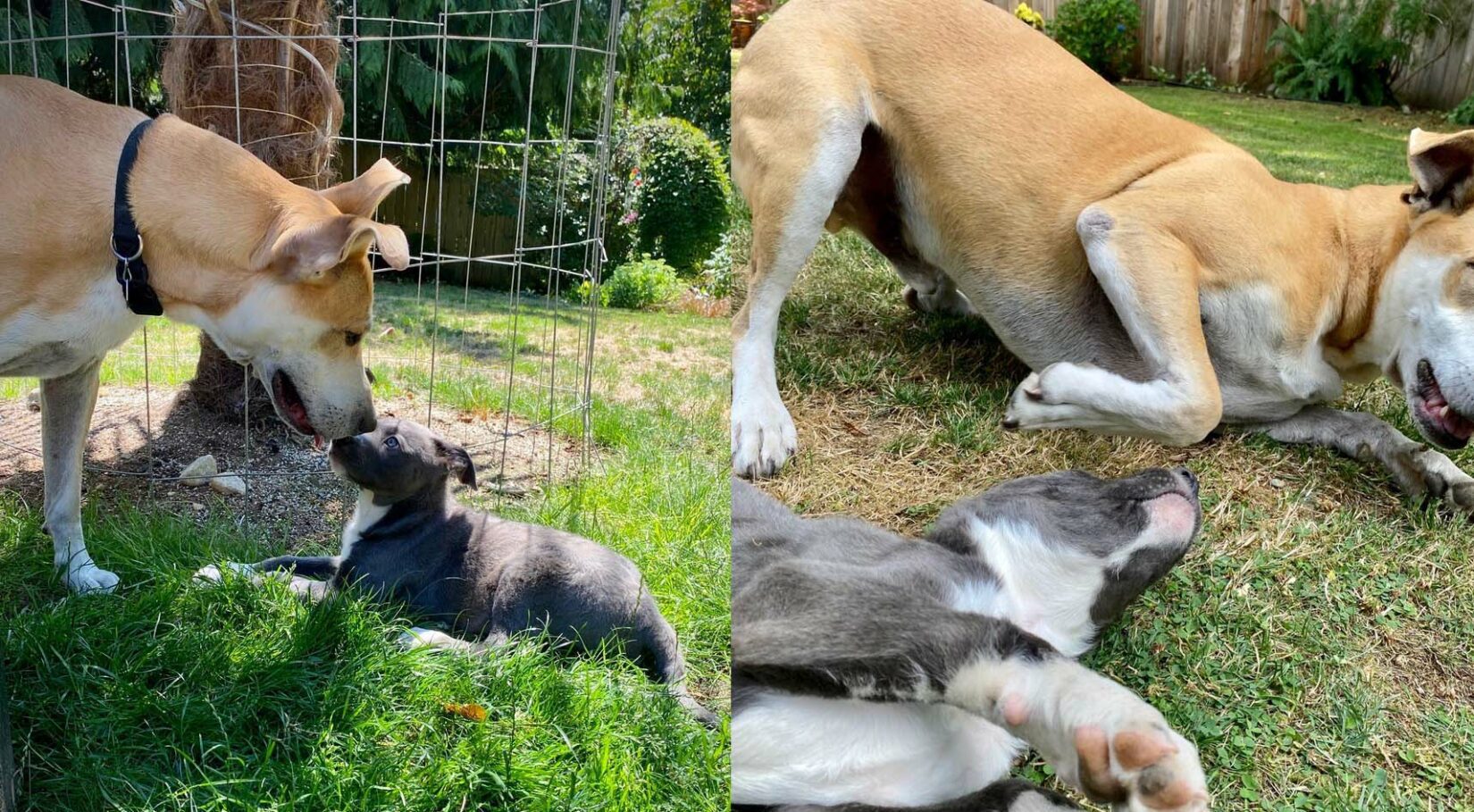 Doug and Christine also have two cats, Matt and Ruby, who have been mostly hiding since Milo's arrival. "Ruby gave him a little bat to the head, just to let him know who's boss," says Doug. "Milo didn't react at all."
Even Milo's housetraining has been going well. "He has only had one accident," says Doug. "The other day he woke me at four a.m. to let me know he needed to go to the bathroom. Not sure if he is so good because he spent all that time outside before he was found, but he has been easy to train."
"We took him over to my daughter's house to meet all five of the grandkids. He loved being around them." Doug and Christine are thrilled that Milo is part of the family. "Everything he does is so cute. He falls asleep on our lap; he loves to play with Otis and the grandkids. He is such a good boy."