Last October Aura and her 10 puppies were seized by the BC SPCA after a concerned citizen called in to report seeing the four-year-old German short-haired pointer being abused and forced fed drugs and alcohol by her owner, in addition to witnessing one of her puppies also being physically abused.
Mama and pups were taken to the BC SPCA in Prince George where they received a lot of love from the staff before they were taken to their foster home.
At the time Alex Schare, manager of the Prince George SPCA, said that if it wasn't for the SPCA's cruelty investigations team Aura would "likely still be in this very bad situation with her puppies and both her and their welfare would be poor. She deserves great treatment and that is not what she was getting before."
Thankfully, Aura and all 10 of her puppies found their loving furever homes, and we're happy to report they are happy and healthy.
Here's what Aura and some of her pups are up to now.
AURA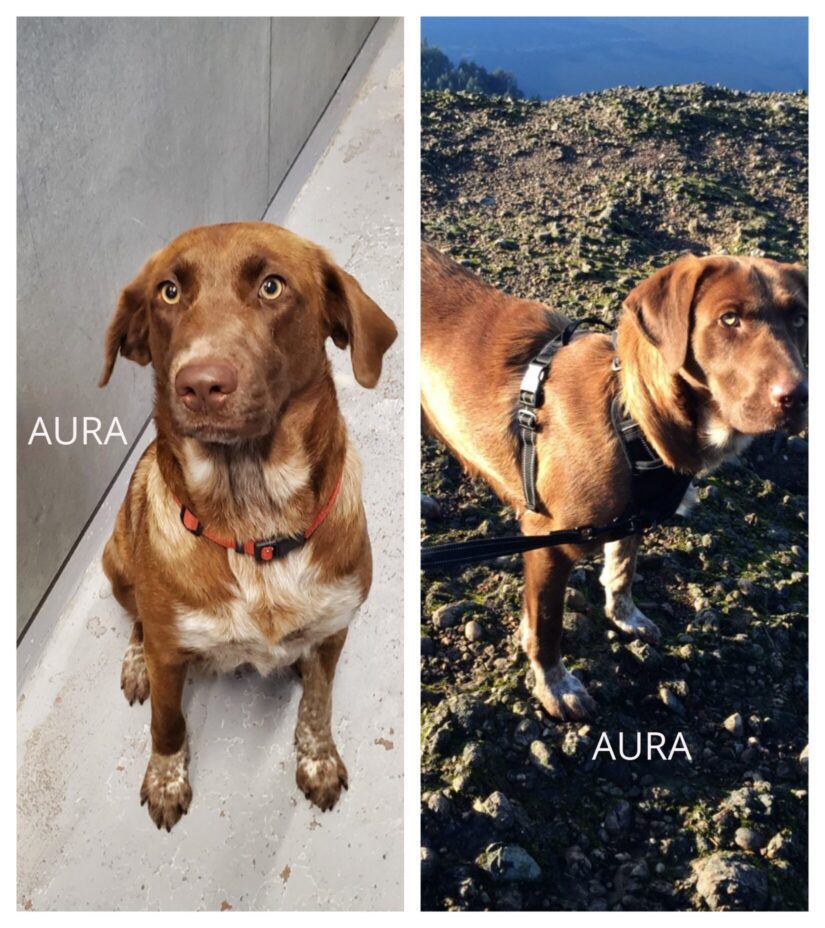 "Aura is adjusting to her new life with tons of love and cuddles," her new guardian shared in an email. "She is a beautiful soul and coming from her prior circumstances, she is doing remarkably well."
Aura loves running around in their fenced-in two-acre lot when she isn't out on a hike with her guardians. At the end of the day, "She loves to lay in front of the fireplace and bask in the coziness and heat," says her new mom. Next summer her guardians look forward introducing Aura to the ocean and maybe paddle boarding since she enjoys the water.
"We are so blessed to be Aura's people," says her mom. "When people ask if Aura is a rescue dog, we say 'Yes…she rescued us!' She is a very special girl and so loved."
 REX (ACHILLES)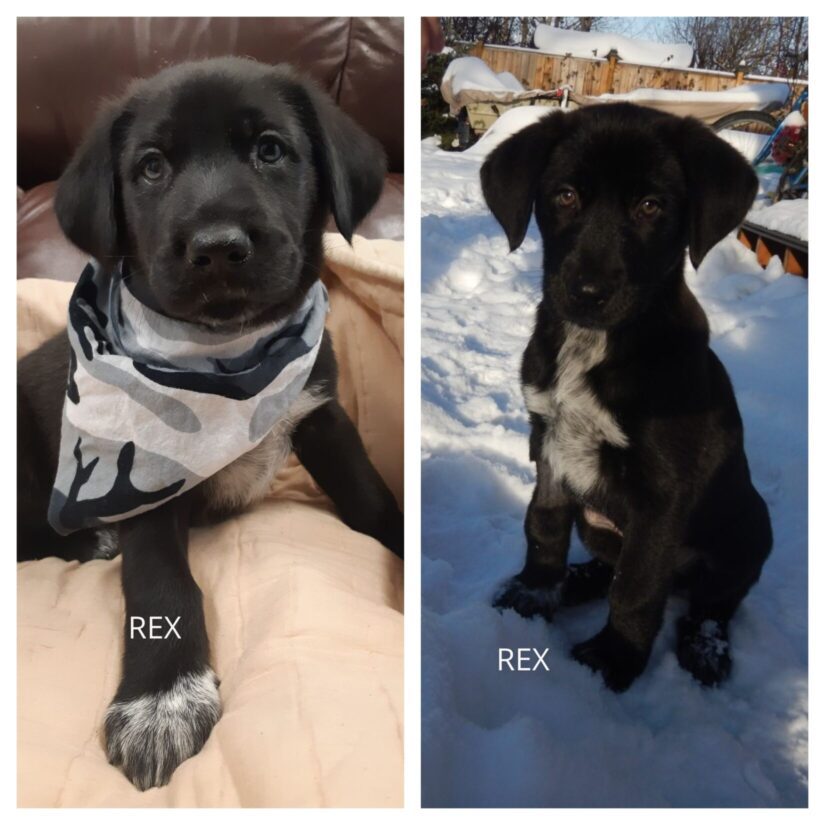 Achilles, now Rex, is "growing like a weed just like the love we have for him," shares his guardians Theo and Janelle. "Rex has quite the personality and loves to talk back. We laugh often and try not to when he is in trouble."
Every day they work with him on various training exercises. So far, he can sit down, shake a paw and lay down.
Rex is also a little mischievous.
"He loves stealing our clothes even though he knows he is not supposed to. Rex likes to see what he can get away with which is often! He is a typical puppy, always learning and we love him so much."
RUCKLE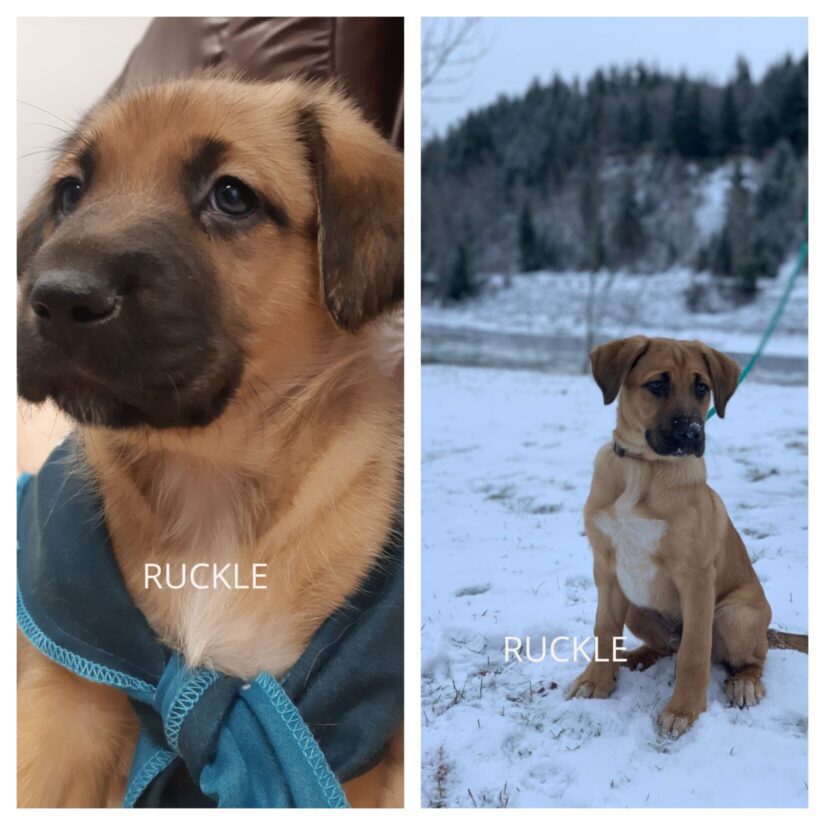 According to his guardian, Katrina K., "Ruckle loves to do what we do, whether that be exploring nearby trails, learning to saunter after us while we cross-country ski, or lounging around at home, and getting belly scratches!"
He also likes looking for snow piles to roll around in and loves finding sticks to prance around with.
Although he's growing fast, "he'll pop right in our laps whenever we sit down with him. Ruckle learns so much every day, and is just a blast to have around!"
 MARVIN  (PERSEUS)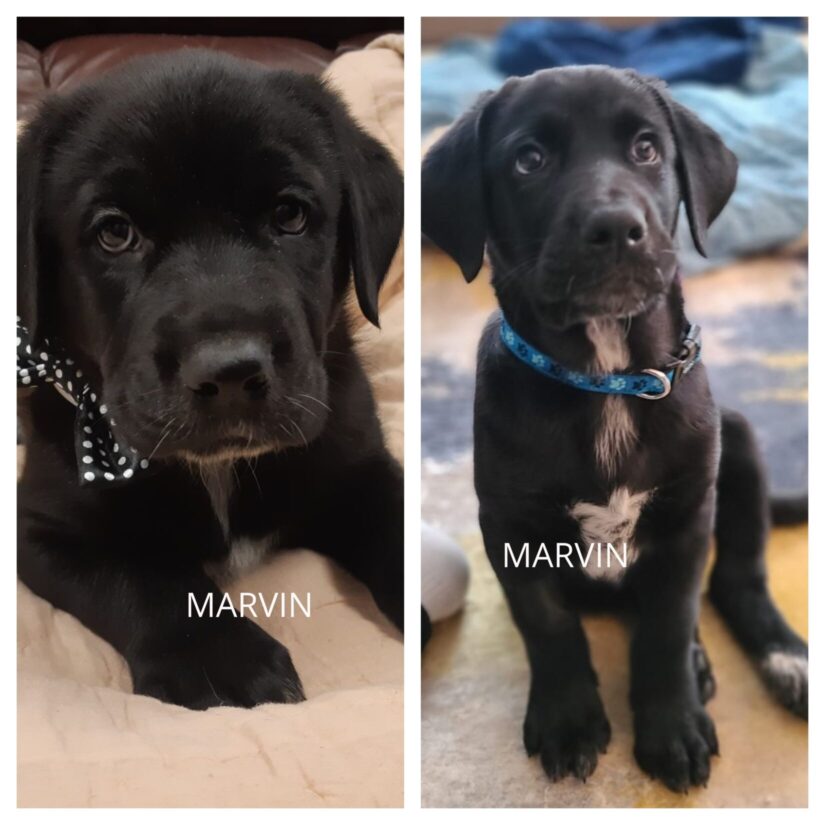 "Sweet Marvin is full of beans!" says his guardian, Camellia B. "He has settled in well with Mom, Dad, and big brother Reggie."
When he's not playing tug of war with Reggie, who was adopted by the family from the SPCA in 2015, Marvin enjoys family snuggles, or playing in the snow.
"Marvin is growing fast, and has mastered sit and lie down. We have fallen head over heels in love, and feel so lucky to be his forever home."
 MO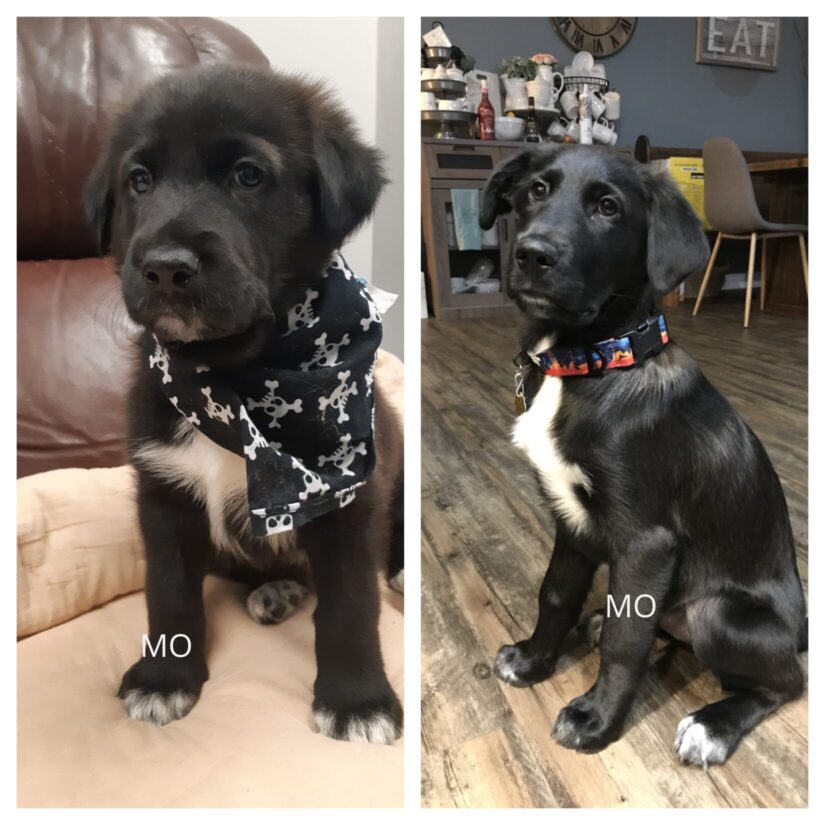 "Mo has become the highlight of our household," says his guardian Erica P. "Mo has adjusted well with his new family, and loves his brother and sister, who are both cats."
Mo, who just finished his first set of puppy classes, is a social butterfly and greets everyone with a wagging tail and kisses.
"He is gentle, kind and a great cuddler," says Erica. "He especially loves sleeping in his mom and dad's bed. We couldn't be more in love with him, and he's been a blessing."
ODIE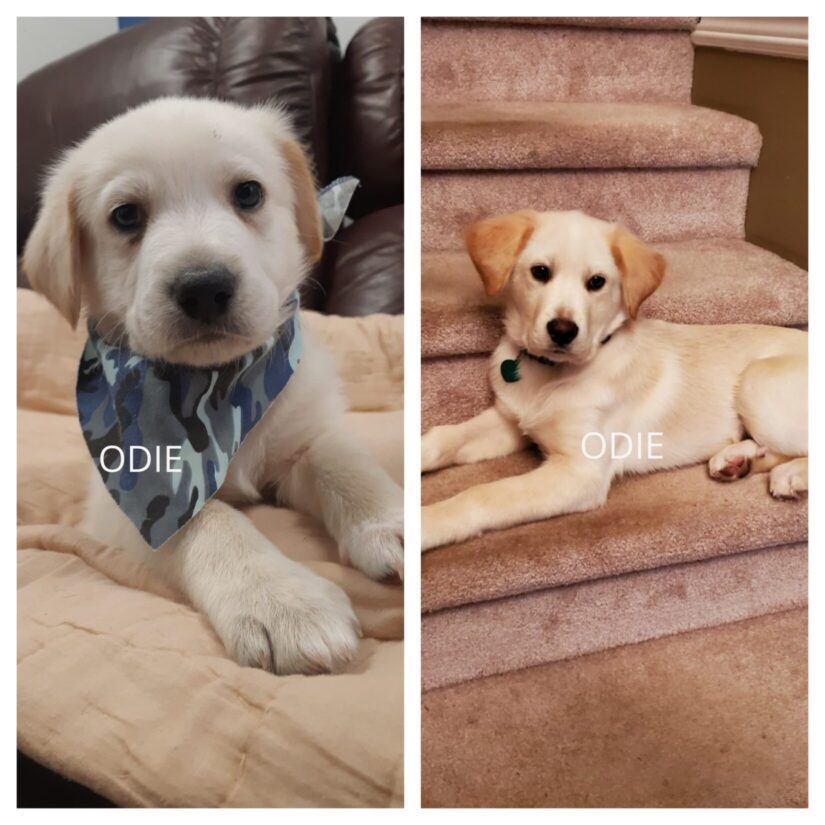 "Odie has fit into our home quite nicely," says Pat C. "He is actually very calm most of the time and will lay on my lap while we watch TV or while I read. We spend lots of time together just chilling."
Odie has accompanied the family on their night skis, which he enjoys, and Pat says she looks forward to running with him when he gets a little older.
"Odie has been a welcome addition to our home, and we look forward to many happy years together," says Pat.