It's never too early to check your pet for ticks.
After spending some time in the forest, BC SPCA manager of policy and outreach Amy Morris found three ticks on her dog, Clover.
"I couldn't believe I found three on her in such a short timeframe," Morris says. "I think it highlights the fact that we, as pet guardians, should be checking our furry family members year 'round for these pests."

Dr. Emilia Gordon, BC SPCA senior manager of animal health, concurs.
"While not all ticks carry lyme disease, if you think your dog has picked up a tick, taking him to the vet is highly recommended as there are also other tick-borne diseases," she says. "There are tick pullers available, but it is important not to leave any of the tick's body parts in your pet, as they can cause infection."
Ticks are external parasites that feed off the blood of unlucky hosts, including humans, dogs and cats. Tick bites and tickborne diseases, such as Lyme disease, can be hard to detect; signs of tickborne disease may not appear for seven to 21 days or longer after a tick bite, notes Gordon.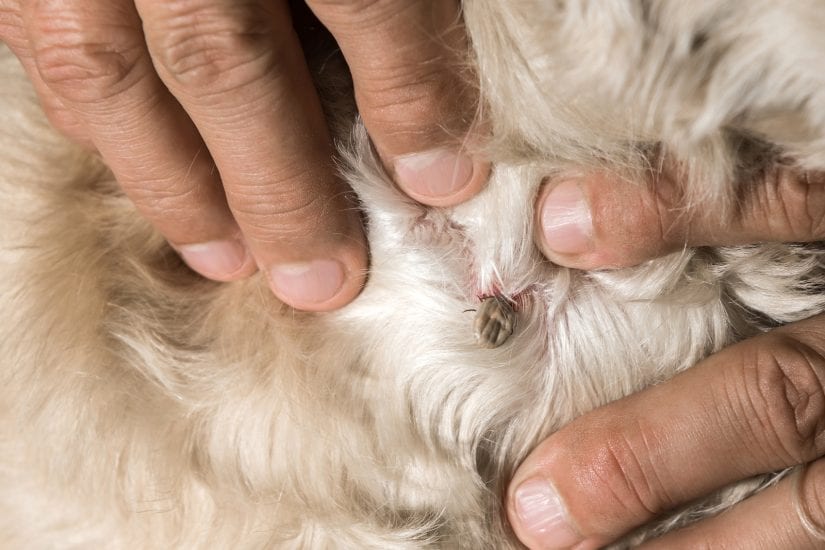 Gordon also cautions that old-school methods like burning the tick out or attempting to suffocate it with oil should never be used.
"Watch your pet closely for changes in behaviour or appetite or for any unusual illness such as fever, lameness, lethargy, bruising or bleeding if you suspect he's been bitten by a tick," Gordon says. "It's also important to properly remove the tick, or to have it properly removed, to help prevent any disease or infection."
Steps pet guardians can take include:
Check your pets daily for ticks, especially if they spend time outdoors
If you find a tick on your pet, remove it or have it removed by your veterinarian right away
Ask your vet to conduct a tick check at each exam
Talk to your vet about tickborne diseases in your area
Reduce tick habitat in your yard
Talk with your veterinarian about using tick preventatives on your pet – there are a number of safe medications and prevention is the best medicine
Other parasites, such as fleas, can also be problematic for pets and humans if not properly addressed.
"Unlike lice, which are species-specific, fleas and ticks don't discriminate – they'll latch onto anything with a heartbeat," Gordon says, adding deer and other wild animals can also carry the pesky parasite.