From a kitten found abandoned in a box on a construction site to a family of four pigs who needed a new home together, read the stories of these amazing animals and the people who gave them a second chance at happiness.
Fabulous foursome finds forever home
They were surrendered to the BC SPCA in 2019 with a host of medical issues. This family, Mama pig, Inky, Charles and Timbit, were treated by a veterinarian and adopted shortly after their arrival. Unfortunately, they were returned to the BC SPCA's care in the summer of 2021, when their guardian moved and couldn't bring them along.
Finding homes for farm animals, especially bonded farm animals, is not an easy task. This fabulous foursome got extremely lucky when Jane, who lives on an idyllic four-acre property, found them on the BC SPCA's website and knew she had to give them a home. "I fell in love with them as soon as I saw them," says Jane.
She has had a great time getting to know them. "Timbit has the ears of a moth and alerts everyone when breakfast is coming," she says. "Mama makes sure she is first out of the gate to eat and Charles is very funny – he tries to flip every bowl. Inky is my shy, gentle boy."
Jane adds that they got comfortable in their new home quickly. "It was like they knew this was their forever home the minute they walked into the barn."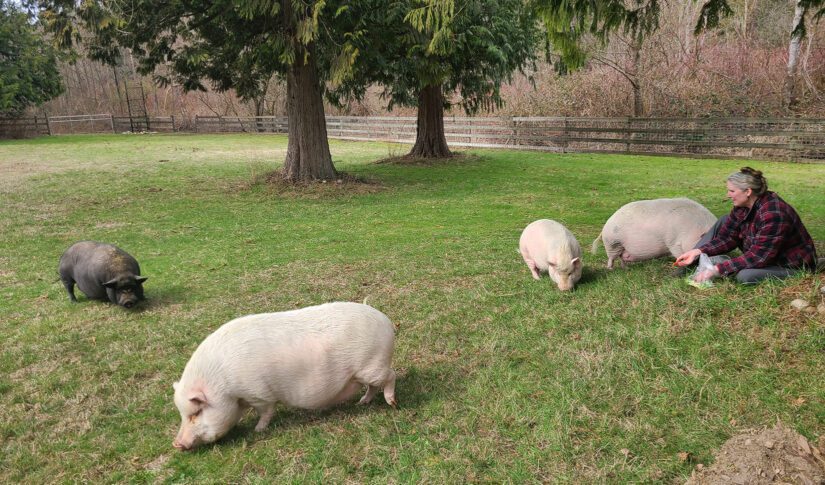 Abandoned kitten finds perfect pawrent
Prancer was one of nine kittens found abandoned at a construction site in December. They had been left in the freezing cold in two boxes taped shut. Luckily, someone found them and brought them to the Vancouver BC SPCA. The kittens were rushed to the vet to be examined. Prancer would need her right front leg amputated because of a weeks' old injury.
"Prancer had the sweetest disposition," says Jodi Dunlop, manager of the Vancouver BC SPCA. "Even though she had been suffering for weeks, she was always happy to see people. She would knead biscuits with her good left paw."
This adorable kitten with the fighting spirit found her perfect match. "When I decided to foster to adopt Prancer, I had a broken foot," says Tara. "We were both dealing with injuries."
Tara says that Prancer did well post-surgery. "She is a little fighter. She was running and jumping the first day. She wanted to do everything a cat can do."
Her favourite thing about Prancer? "She doesn't let anything slow her down. I catch her climbing and hanging from everything around the house with her left front leg. She is a tiny cat with a big heart."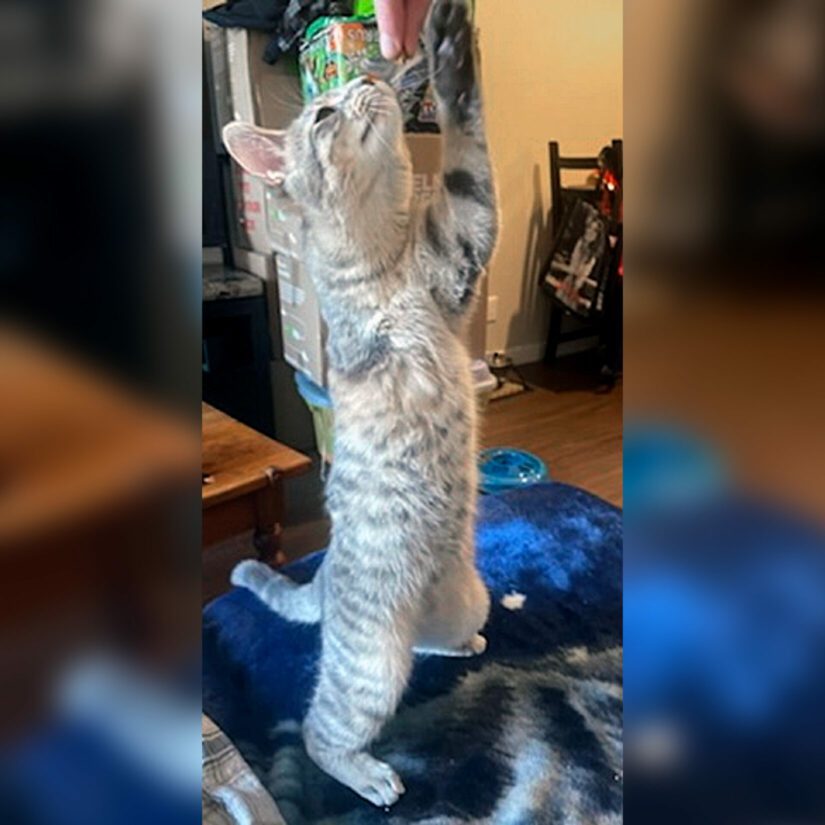 Blind and deaf dog living the dream
Clifford, a stray, deaf and blind poodle-Australian shepherd mix, fell into a ravine at the back of a yard. He was brought to the BC SPCA by a Good Samaritan who saw him fall and rescued him using a rope.
"Clifford had clearly been neglected. He desperately needed grooming, had weeping eyes and infected ears," says Liz Dighton, manager, Williams Lake BC SPCA. "His 'heaven' would be a cozy, warm, home with the right guardian."
An 'angel' made her way to Williams Lake on one of the coldest days of the year. "I saw the story about Clifford on the news," says Jolene. "I knew I had to bring him home and drove from Penticton to Williams Lake in -40 degree weather to meet him." Jolene's blind dog Ollie had passed away months earlier; she was ready to give another dog with special needs a loving home.
"He figured out where everything was quickly," says Jolene. "He is such a sweet boy. He follows me around everywhere and just loves to sit on my lap and get all the cuddles I can give him."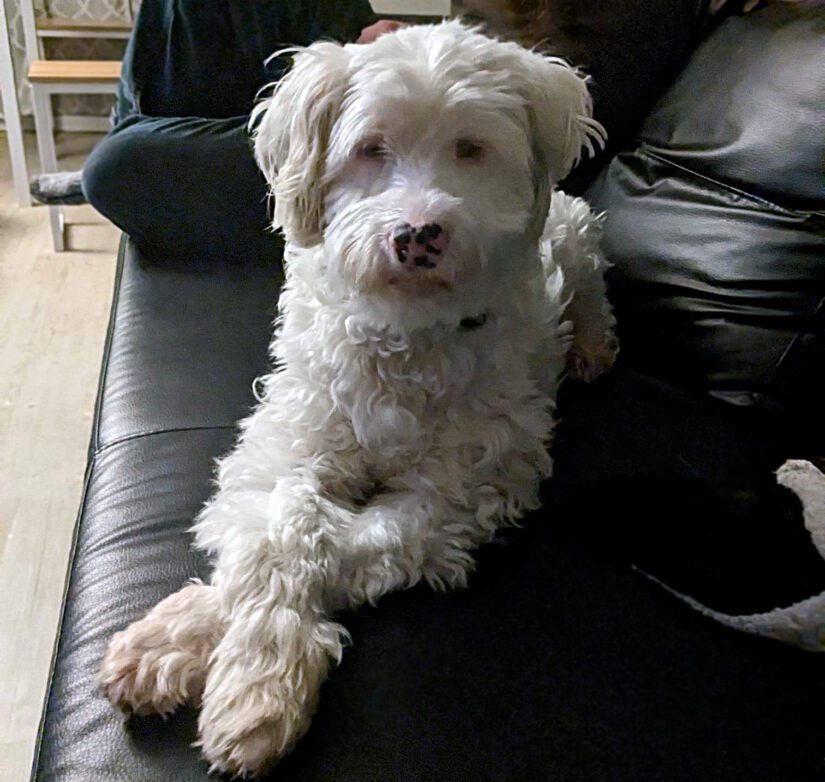 Related links
Search for adoptable animals
How to adopt from the BC SPCA
Adoption: Making the right match