A brave young cat at the Sunshine Coast SPCA must have his tail amputated.
Found by a Good Samaritan as a stray, the last bit of his tail was crushed,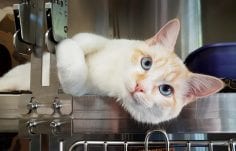 bloody and blackened from dead tissue. Named Ron Weasley, this flame-point Siamese feline must undergo surgery before he's available for adoption.
"Ron just adores affection! He'll lure you over to visit him by chirping and kneading his paws, then he'll roll right into your hand and start drooling with happiness when you start petting him," says BC SPCA Sunshine Coast Branch manager Cindy Krapiec.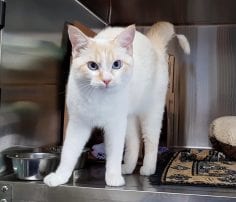 "Despite his injury and infection – we suspect his tail was accidentally caught in something like a door – he's so loving and affectionate!"
The cat, named after the fictional Harry Potter's best friend, must have his tail amputated and recover in BC SPCA care before he will be available for adoption.
A non-profit organization, the BC SPCA relies on public donations to help British Columbia's most vulnerable animals.
"We just want Ron to have the chance at a long and happy life, preferably in a loving 'purr'ever home," Krapiec says.
"He's got so much love to give! We hope he won't have to wait long."
If you can help Ron and other animals like him at the Sunshine Coast SPCA, donate online at spca.bc.ca/medicalemergency or in person at 4376 Solar Rd., Sechelt.