Staff at the Maple Ridge SPCA are hoping the public can help a sweet St. Bernard puppy who was hit by a car and badly injured. Rushed by a Good Samaritan to an emergency veterinary clinic, the six-month-old female pup, named Lexus, is now in the care of the BC SPCA.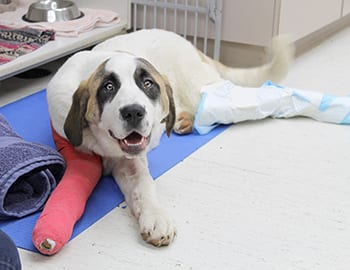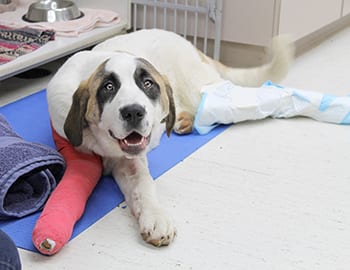 "Lexus is such a good-natured girl – she's absolutely adorable! She looks at you with those eyes and your heart just melts," says BC SPCA Maple Ridge Branch manager Jodi Dunlop. "She's only six months old, still just a puppy, and despite her many injuries, she has been so lovely."
Lexus suffered broken ribs, a fractured front leg and ligament damage to a back leg, and can't walk without help. She needs at least two surgeries to help get her started on the road to recovery.
"We just want to give her a second chance at a happy, healthy life – she's a real darling," Dunlop says. "She'll likely be in foster care for two to three months recovering, and after that, she'll be available for adoption into a loving, forever home."
Medical costs to help Lexus are expected to exceed $8,000. A non-profit organization, the BC SPCA relies on public donations to help the province's most vulnerable animals.
If you can help Lexus and other animals like her in need at the Maple Ridge SPCA, you can donate online at spca.bc.ca/medicalemergency or in person at 10235 Jackson Rd., Maple Ridge.
The British Columbia Society for the Prevention of Cruelty to Animals is a not-for-profit organization reliant on public donations. Our mission is to protect and enhance the quality of life for domestic, farm and wild animals in B.C.