As requests for help continue to pour in from families impacted by the wildfires, SPCA staff and volunteers are working hard to assist as many animals as possible.
One recent call involved Stone, a 12-year-old mixed-breed dog, whose owners were on evacuation alert just outside of Lytton.
"We got an urgent call to say their senior dog was in medical distress but they had no transportation to get him to an emergency clinic," says BC SPCA constable Leah Dodd. "This family was going through so much – their home was under threat from the fires and they had both been employed in the Village of Lytton, so their livelihoods were suddenly gone."
Dodd says Stone had stopped eating and drinking and would stumble and fall when he attempted to walk. "His owners were desperate and I knew I had to do whatever I could to help," she says.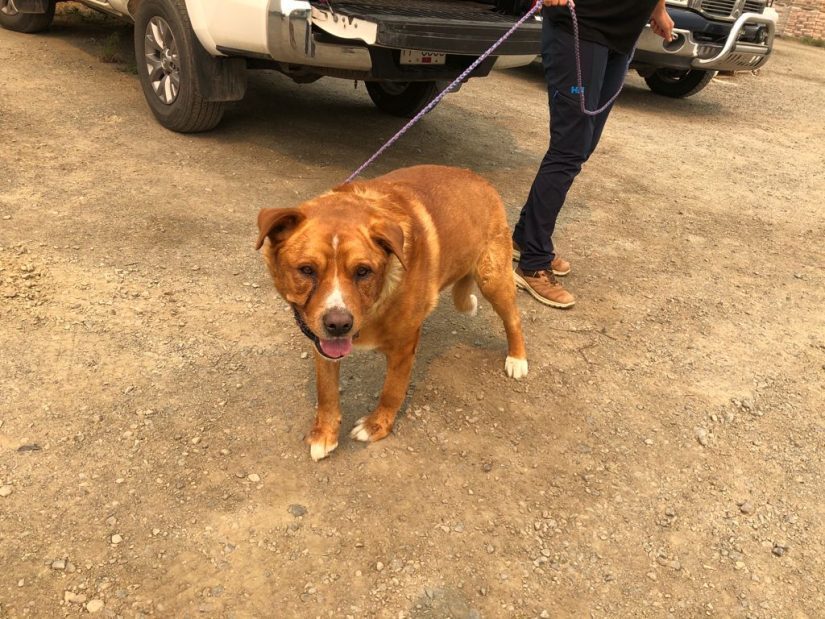 There was limited access in the area, but Dodd received permission from RCMP to drive through Lytton along Highway 1 to pick up the dog. "As I drove along the highway past the check point, the fire had reached the road and fire crews were actively working on it," says Dodd. "I could feel the heat, even from inside the vehicle."
She reached the home, where she found Stone in medical distress and in need of immediate help. "I arranged with the owners that the SPCA would pay for Stone's medical treatment and provide emergency boarding in Kamloops until he was able to go back home."
Loading Stone in her truck, Dodd returned to Highway 1 but at the checkpoint was told to turn back and re-route through Hope as the road had become too dangerous. "I explained I had a very sick dog who needed immediate medical attention and they granted me access to Highway 12 to get back to Kamloops," she says. "It added 90 minutes to the drive but I was able to get Stone into an emergency clinic in the late evening."
Stone was examined by a veterinarian and is receiving pain management treatment for his condition. He is scheduled to go home to his family this week.
Thank you to all of our generous supporters for partnering with us to help animals like Stone and their families!