Stallone was found languishing on the side of the road by a Good Samaritan and it's likely that he was hit by a car. A local veterinary clinic assessed him to find he had a fractured pelvis, a dislocated bone and a fractured bone in his left hind leg. Stallone is also anemic.
Sadly no one was able to find an owner for this handsome cat and he came into the Vernon & District SPCA's care. "Stallone's hind left leg has been amputated and his pelvis is expected to heal with time. Once his injuries heal his anemia is also expected to resolve," says Chelsea Taylor, branch manager at the Vernon & District SPCA.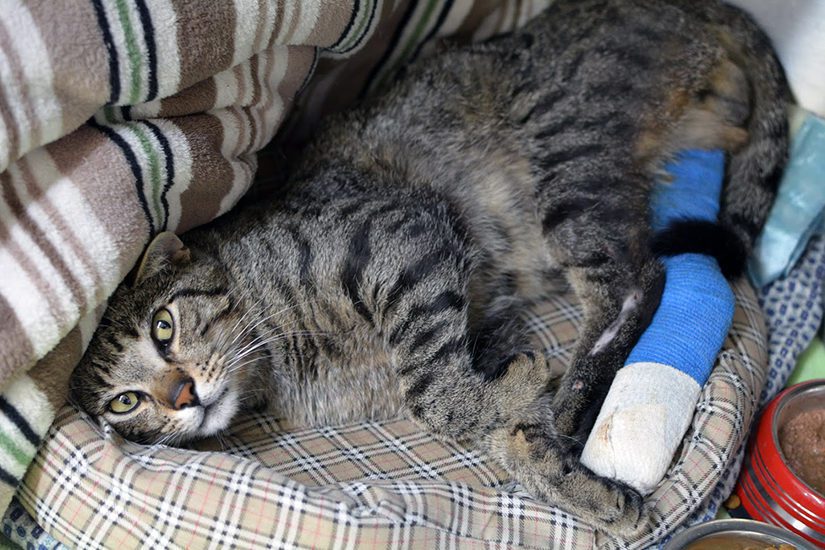 His medical treatment is expected to cost about $2,272 and Stallone will have to stay at the SPCA for at least two months before he's ready to be adopted. "Stallone is a very lovely cat. The entire vet clinic is in love with him and describe him as 'so darn sweet,'" says Taylor. "Even in pain he is purring and reaches for your hand with his head. He has a fighting spirit."
If you can help save Stallone and other animals in need at the Vernon & District SPCA, please visit spca.bc.ca/medicalemergency or visit the branch at 4800 Haney Road, Vernon, 250-549-7279.