Update: Over 4,500 people signed the pledge to speak out against a new rodeo in the Township of Langley.
This pledge demonstrates that rodeo does not align with the values of many British Columbians. In June, we submitted a letter to the Mayor and Council of the Township of Langley also expressing our concerns with the rodeo. Unfortunately, tickets have still gone on sale for the Valley West Stampede, to be held this Labour Day weekend in partnership with the Langley Riders Society.
In a press conference, the Valley West Stampede announced that mutton busting will also be included in the rodeo. During this event, young children ride sheep that run in fear and attempt to throw the child off. In addition to the distress this can cause to the sheep, this event does not teach children to respect and care for animals. 
The press conference also identified Valley West Stampede's plans to hold the event each year in Langley and expand the event in the future. Previously, the Cloverdale Rodeo was the only rodeo in the Lower Mainland. With Cloverdale Rodeo's planned return in 2023, there is now the potential for two rodeos – a major step back for animal welfare in our province. 
The upcoming municipal election on October 15 also gives you an opportunity to communicate your concerns and commitment to animal welfare to existing councillors and new candidates. While they prepare their platforms and campaign in your community, you can make it clear that you oppose activities that involve animal suffering, and will be voting for somebody who shares those values. If not already present, your municipality can adopt a bylaw to prohibit rodeo, and you can make it clear to candidates that you support this action.
Original Story: June 8, 2022
The BC SPCA is urging animal lovers to speak out against a new rodeo being proposed by the Canadian Professional Rodeo Association in the Township of Langley this September.
"Allowing this rodeo to take place would not only be a major step back for animal welfare but also goes against the values of our society, as a majority of British Columbians are opposed to using animals in rodeo," says Melissa Speirs, manager of farm animal welfare for the BC SPCA. She notes that many communities throughout the province have made an effort to modify, exclude or cancel rodeos altogether in recent years to limit the suffering these animals endure.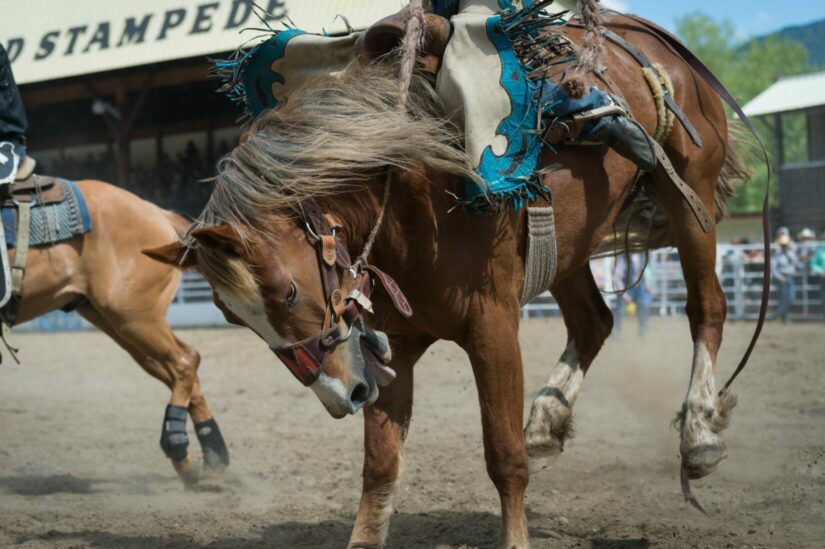 While the most dangerous roping and wrestling events are not being proposed, SPCA experts say other events planned for the Langley rodeo – including saddle bronc riding, bareback riding, bull riding and barrel racing – can cause pain and distress for the animals.
"Saddle bronc, bareback and bull riding are bucking events where a rider attempts to stay on a bucking horse or bull for eight seconds. Scoring in these events is equally dependent on the rider and the animal, meaning the more vigorous an animal bucks, the higher their scoring potential," explains Speirs. "To encourage the horse or bull to buck, a flank strap is placed around the hindquarters of the animal, applying pressure to their sensitive underbelly. The rider's score also increases the more they incite bucking by using their metal boot spurs on the animal."
"While bucking is a natural behaviour for these animals", says Speirs, "in rodeo events it is a forced behaviour rooted in discomfort and distress, not in play."
Although barrel racing is similar to many horse-riding events, there is a lack of standards that dictate acceptable and unacceptable equipment while racing. This permits a wide variety of equipment that can cause suffering, such as the use of painful metal bits in a horse's mouth to better control them.
"As an animal welfare organization, we are opposed to the infliction of pain or suffering upon any animal for the purpose of recreation, sport or entertainment," says Speirs. "We do not support the use of animal handling and training techniques that use pain or fear to motivate behaviour change, which unfortunately occurs in many rodeo events."
Speirs notes that while proponents of rodeos claim the animals are properly cared for outside of the events, it does not justify the physical and psychological pain the animals suffer during the rodeo.
"B.C. has a long tradition of cattle ranching, and we believe these skills can be showcased through demonstrations of low-stress handling and horse-riding events that do not cause fear, frustration, anxiety, pain or injury to animals," says Speirs. "We know that everyone is eager to reconnect with their communities after the past two years, but we encourage people to only take part in community events that do not put animal welfare at risk. There are many wonderful family events, including those with an agricultural focus, taking place in our province this summer – the rodeo doesn't need to be one of them."
Please help rodeo organizers understand that animal suffering is not an appropriate form of entertainment. By signing this pledge, you are voicing your concern for animals used in rodeo and demonstrating you do not support this new rodeo.
Resources: