The BC SPCA is seeking the public's help to care for Savannah, an emaciated pregnant mare and four other horses seized this month from a rural property in the Fraser Valley.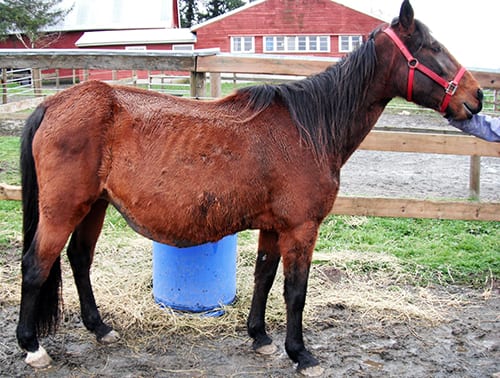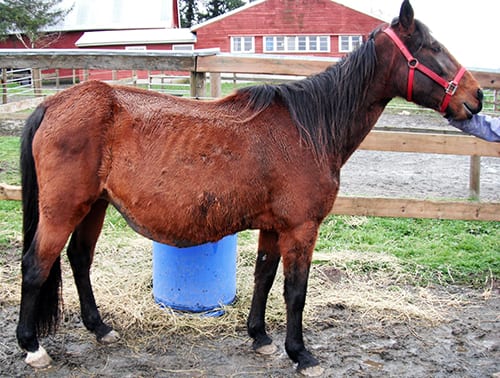 "The horses were severely undernourished and were suffering from a range of medical issues," said BC SPCA senior animal protection officer Eileen Drever. "The pregnant mare in particular will require specialized care due to her comprised condition." In addition to lack of nutrition, the horses had inadequate shelter and were exposed to injurious objects on the property.
The five horses are among more than 80 neglected or abused horses the SPCA has taken into care during the past five months. "We are receiving more and more cruelty complaints involving horses," says Drever. The cost of caring for equines is high and the SPCA is hoping that members of the public will come forward to help pay for the costs of caring for the seized horses. All of the BC SPCA's programs and services for animals in need, including emergency care and cruelty investigations, are funded by community donations.
"We will also need homes for these horses," said Drever. "If anyone can assist us in any way or can provide a permanent home for these beautiful animals, we would appreciate hearing from you."
Donations to the cruelty investigations department can be made online or by mail to 1245 East 7th Avenue, Vancouver, B.C., V5T 1R1. For information about adopting the horses, please call the BC SPCA's Cruelty Investigations Office in Surrey at 604-575-2249.
The British Columbia Society for the Prevention of Cruelty to Animals is a not-for-profit organization reliant on public donations. Our mission is to protect and enhance the quality of life for domestic, farm and wild animals in B.C.