Warning: graphic photos below
A gentle Rottweiler, whose collar was so embedded that it took an extensive surgery to cut it out of his neck, is recovering at the BC SPCA Kamloops Branch. The young dog, rescued from a rural area near Lytton, required more than 80 stitches after the surgery to remove the embedded collar.
"Sadly, we see this situation quite often, where owners don't bother to change their dog's collar as the animal grows and the collar becomes so tight that it cuts deeply into their flesh," says Kent Kokoska, senior animal protection officer for the BC SPCA. "This is excruciatingly painful for the poor animal, particularly if the raw flesh becomes infected, and is inexcusable neglect on the part of the owner."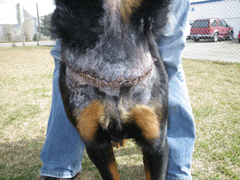 Kokoska says the dog, who is approximately one to two years old, is a smart, gentle dog who gets along well with other canines. "It is likely that the dog spent much of his life confined to a tether, but he has a very sweet disposition and we are currently assessing him and providing him with the care and rehabilitation he needs."
The dog is currently being fostered by a Kamloops SPCA staff member as he recovers from his injuries. If you'd like more information on how to support this injured dog and other animals in need, please visit spca.bc.ca/support or contact the Kamloops SPCA at 250-376-7722.
The investigation into the case continues and charges of animal cruelty are pending.
The British Columbia Society for the Prevention of Cruelty to Animals is a not-for-profit organization reliant on public donations. Our mission is to protect and enhance the quality of life for domestic, farm and wild animals in B.C.