Rocky, a severely emaciated dog rescued by the BC SPCA in Surrey, is the subject of an animal cruelty investigation currently under way by the non-profit animal welfare society.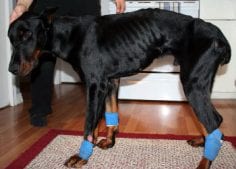 The BC SPCA took the two-year-old Doberman into care Jan. 18 after responding to a complaint about a dog in distress in a neighbourhood near 120th Street and 96th Avenue.
In addition to being seriously malnourished, Rocky was suffering from pressure sores on his hips and legs and had a number of medical issues, including anemia and liver problems.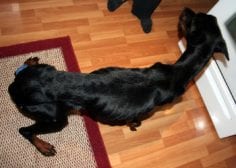 "It was heartbreaking to see this beautiful, gentle dog in such a severely neglected condition," said Valerie Sigler, manager of the Surrey SPCA branch.
"Rocky is receiving ongoing veterinary and nutritional care and is currently being fostered by one of our staff members.  He is a wonderful dog and is responding very well to the care he has received."
The investigation continues and charges of animal cruelty are pending in the case.
The BC SPCA conducts nearly 6,000 cruelty investigations a year and is reliant on donations from the public to continue its work. Your gift can support these investigations and help bring abusers to justice. Please donate today.
Photo caption: A severely emaciated Doberman was rescued by the BC SPCA in Surrey on January 18.
The British Columbia Society for the Prevention of Cruelty to Animals is a not-for-profit organization reliant on public donations. Our mission is to protect and enhance the quality of life for domestic, farm and wild animals in B.C.