Over the past half-century, restrictive gestation stall housing for pregnant sows has been the norm, but today there is growing concern for the welfare of sows in such systems. Many countries have responded by implementing bans on the use of gestation stalls in pig production.
The response from consumers has been an increased demand for pork grown in alternative (group housing) systems. As a result, the tides are turning for pigs in North America, with food chain giant McDonalds USA announcing it will soon purchase pork only from farms that have replaced their confining gestation stalls.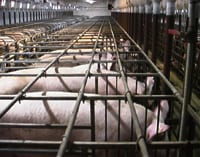 Confinement housing for pigs has become one of the greatest concerns among animal welfare scientists and animal welfare organizations internationally. Research conducted in Canada and around the world indicates that gestation stalls negatively affect sow health and well-being. As such, many countries have begun to phase out the use of gestation stalls over the past decade with the goal to ban them altogether eventually.
In Canada, housing requirements for sows are currently being deliberated as part of a new Canadian Codes of Practice for the Care and Handling of Pigs, which should be complete by 2013. Consumers who don't want to wait can support stall-free farmers by choosing SPCA Certified pork products when they shop.
Many Canadian pig farmers are already making the transition to group housing, but the related infrastructure changes pose both financial and management challenges. So how do farmers go about making these changes? And what opportunities exist for farmers to adopt alternative housing systems?
The British Columbia Society for the Prevention of Cruelty to Animals is a not-for-profit organization reliant on public donations. Our mission is to protect and enhance the quality of life for domestic, farm and wild animals in B.C.