Pets of low-income guardians in the Downtown Eastside got an early Christmas present on Dec. 18 when Canadian singer Michael Bublé and his wife, Luisana Lopilato, donated a generous supply of DOG for DOG treats to Charlie's Food Bank, the weekly pet food bank run by the BC SPCA.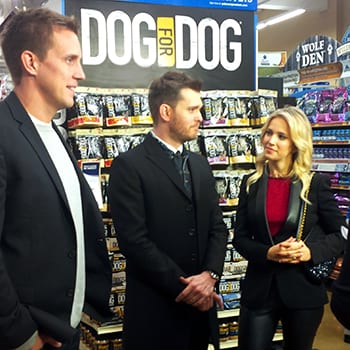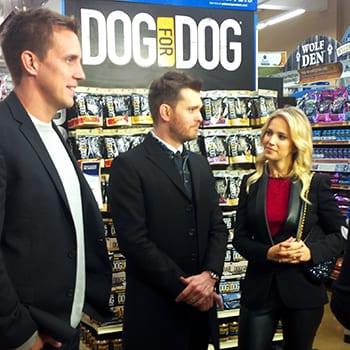 Charlie's, which operates out of the Mission Possible centre on Powell Street, provides free pet food and supplies for low-income pet guardians every Thursday, and offers free veterinary clinics throughout the year. Since the program began in 2000, more than 55,000 pet guardians have received assistance for their animals, nearly 4,000 pets have been spayed or neutered and 11,000 animals have received other free medical treatments.
"Charlie's operates solely through donations and we very excited and grateful for the donation of the DOG for DOG treats from Luisana and Michael," says Kim Monteith, BC SPCA animal welfare manager and coordinator of Charlie's Food Bank. "The individuals we serve are going through a difficult or transitional time in their lives. Their pets mean everything to them, and being able to give them treats at Christmas brings joy not only to the animals but to their guardians as well."
Founded in 2011, DOG for DOG was created with a goal to not just be a treat company, but to start a movement. With every item sold, DOG for DOG donates an item to a dog in need.  A long-time dog lover, Bublé became a partner in DOG for DOG last summer – a gift to his wife Luisana, who is a passionate advocate for animals in need.
Learn more about Charlie's Food Bank.
The British Columbia Society for the Prevention of Cruelty to Animals is a not-for-profit organization reliant on public donations. Our mission is to protect and enhance the quality of life for domestic, farm and wild animals in B.C.