She was found by a Good Samaritan, nearly dragging both back legs behind her. Silverbell, a two-year-old silver tabby, had a broken left hind leg and an old break injury on her right leg that had already started to heal, leaving her right knee in bad shape.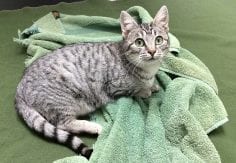 "We're not sure how the injuries happened, but it's pretty clear that life on the streets has been hard on sweet Silverbell, who is such a friendly, affectionate girl," says BC SPCA Shuswap Branch manager Victoria Olynik.
"She needs a plate in her left hind leg and will likely have to have her right hind leg removed to prevent future pain."
The medical costs associated with Silverbell's treatment and care are expected to exceed $3,000. A non-profit organization, the BC SPCA relies primarily on public donations to carry out its life-saving work in helping the province's most vulnerable animals.
"We just want Silverbell to have the chance to experience a healthy, pain-free life – she can still be extremely active as a 'tri-pawed' furry family member," Olynik says, noting the feline will be available for adoption once she has fully recovered.
"Staff are already falling in love with her – she's such a sweet girl who just loves being cuddled."
If you can help Silverbell and other animals like her at the Shuswap SPCA, you can donate online at spca.bc.ca/medicalemergency or in person at 5850 Auto Rd. SE, Salmon Arm.