The BC SPCA is pleased with recent changes that will help improve the lives of farm animals across Canada.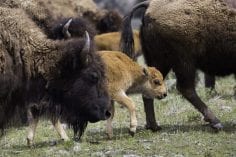 The society continues to participate in a collaborative process coordinated by the National Farm Animal Care Council (NFACC). A discussion between farmers, industry, veterinarians, government and animal welfare groups led to three new evidence-based standards for farm animal care, called Codes of Practice.
"Farm animals are capable of the same suffering as any pet or human, both physical and psychological," says BC SPCA manager of public policy and outreach Amy Morris, who notes that, as an animal welfare organization, the BC SPCA advocates for the welfare of all animals, including those raised for food.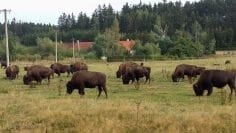 "We are so pleased to see improvements that will impact hundreds of thousands of animal lives in years to come."
This year, collaboration on the Codes of Practice led to new animal welfare expectations for farmers of bison, calves and rabbits raised for meat, including:
A phase out of 'veal crates' with requirements supporting group social housing and prohibiting tethering
Requirements to provide pain control for practices like dehorning and castration for bison and identification of rabbits
Mandatory enrichment, such as resting mats, for rabbits
More space for veal calves and rabbits
Better standards in place for handling animals
The updated NFACC codes mark the first scientifically relevant guidelines around rabbits raised for meat and improves the standards for calves raised for veal and bison, says Morris.
"The changes to the Codes make it clear to farmers what's expected of them when it comes to farm animal welfare – in some cases, where there were no previous Code requirements in place," Morris says.