He had a rough start to his young life, surrendered to the Kelowna SPCA for being too active when he was still a puppy.  Border – named after his breed, the border collie – has come a long way from the underweight and fearful 15-month-old who went into foster care through the Kelowna BC SPCA Branch in 2014.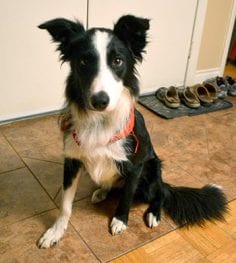 Border collies are a highly intelligent and active breed, notes Kelowna BC SPCA Branch manager Suzanne Pugh, and when they get bored, they can develop behavioural problems, such as "fly-snapping," a condition where the dog will snap at the air, like they're trying to catch invisible flies. It was a behaviour Border displayed, but that didn't stop David and Bridgette Yates from taking him into foster care.
"They already had a female border collie, and therefore had a lot experience with some of the specific needs of this high-energy, working breed," Pugh says. "They spent a lot of time and had a lot of patience with Border, and he just blossomed in their care."
The Yates had lost one of their two border collies six months before, and they went to the BC SPCA in search of another companion for their remaining dog, hopefully one who could compete in agility.
At first Border didn't show much promise for agility. When he first arrived home, Border seemed like he was afraid to make a mistake, and he was even afraid to bark, says David Yates.
"His first walk was on leash on a trail along a local creek," Yates says. "We waded into the creek and he was unsure of the water. He caught his foot between two rocks and softly whimpered instead of letting out a bark."
Now, the two-and-a-half-year-old has a lot more confidence and his fly-snapping is under control, and he competes in agility with a lot of skill.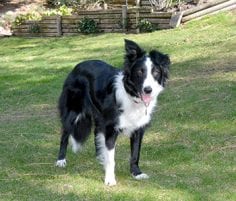 He was entered in a local trial in March, where he received his first title: Agility Dog of Canada. This allows him to move up and enter more advanced competitions.
With more trials planned on Vancouver Island and in Abbotsford, Yates says Border looks forward to competing in the agility ring.
"At first he was over-the-top excited to even be near an agility ring," Yates says. "Now he is just very excited, but I am pleased to add he is now very focused while in the ring."
Photos (Border before and after) and video courtesy of David and Bridgette Yates