Rabbits may be cute and cuddly-looking, but when they live in a median at a busy Victoria interchange, it can be dangerous for both the motorists and the bunnies themselves. Thanks to concerned community residents, veterinarians and volunteer animal lovers who created the Helmcken Humane Rabbit Rescue/View Royal Rabbit rescue group, 42 of the rabbits living in a colony at the Helmcken Road/Trans-Canada Highway interchange have successfully been spayed, neutered, tattooed, dewormed, and transferred to a sanctuary in the U.S.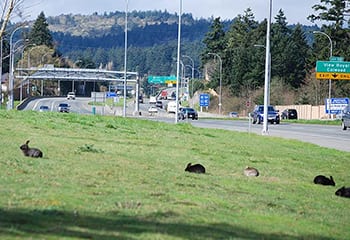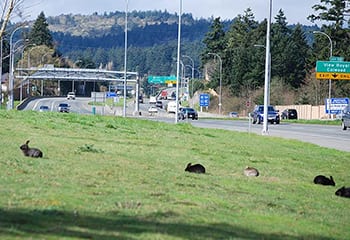 "We've come a long way, but there's still more work to be done," says Dr. Laurie Gaines, a local veterinarian, who notes that a $5,000 BC SPCA Community Animal Spay Neuter Grant was given to help sterilize 100 of the rabbits. "We are working on the second phase, and if funding allows, a group of about 60 to 100 adult and baby rabbits will be rescued, sterilized and scheduled to travel to the sanctuary by the end of summer."
The group has been working hard to complete the rescue with the support of the BC SPCA and Ministry of Transportation and Infrastructure, but due to the fast rate of rabbit reproduction, cost of transport, and continued rabbit abandonment at the site, funds are still needed, Gaines notes.
"Sadly, many of the rabbits who come into BC SPCA care are found as strays after being abandoned, or surrendered because pet guardians don't realize how much of a commitment being a fur-parent can be," says BC SPCA chief scientific officer Dr. Sara Dubois. "The BC SPCA strongly advocates for spaying and neutering every pet, and supports this valuable work. To see the community come together to solve an issue that affects both humans and animals is fantastic."
People had been leaving food for the Helmcken rabbits, Dubois notes, or stopping near the busy interchange to watch the rabbits or possibly, abandon more rabbits, creating potential traffic hazards. The area itself is unsafe for the rabbits as well, due to the high volume of traffic in the area.
"We're hoping people can help us rescue the remaining rabbits, and donate directly to the rescue group – donations will be used for food, medication, surgical supplies and transportation to the sanctuary," Gaines says, adding that a fundraiser is also being held Aug. 18 at Heckler's bar and Grill to help raise funds. "Any little bit helps – we just want these rabbits to be able to live out the rest of their lives in a safe, natural environment."
The British Columbia Society for the Prevention of Cruelty to Animals is a not-for-profit organization reliant on public donations. Our mission is to protect and enhance the quality of life for domestic, farm and wild animals in B.C.