Richmond company Daisy Dog Training has received BC SPCA's AnimalKind accreditation, making the company the second in the city to receive the recognition. Owner and trainer Sandy Reichert says, "I am honoured to be a part of the AnimalKind accreditation program and to join other amazing trainers in our common mission of promoting humane, evidence-based approaches."
Reichert has always been passionate about helping dog owners understand the "why" behind the training. Reichert's company was named after her dog Daisy, who was also responsible for Reichert's career path. "I became interested in dog training after I took my puppy Daisy to a positive-reinforcement training class. I became fascinated with how the clicker was used in training to communicate effectively with the dogs," says Reichert.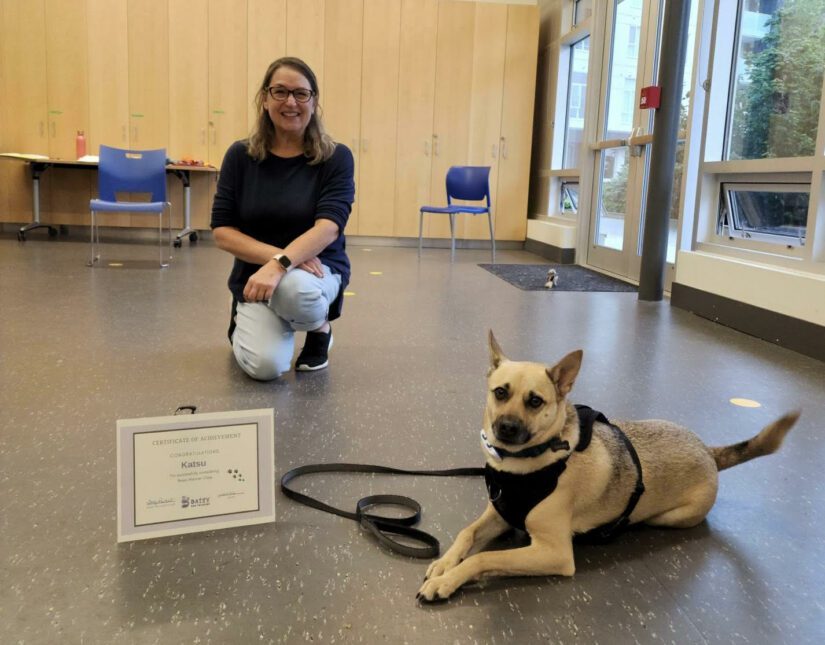 BC SPCA AnimalKind accreditation recognizes dog training companies that are committed to dog welfare. At Daisy Dog Training, Reichert uses positive, evidence-based training methods. "As a young person, I did see force, fear and intimidation used on dogs in the name of training. As an adult, I was so relieved to learn that there were many talented and educated people who were teaching and advocating for a more humane approach to training," says Reichert.
The BC SPCA created the AnimalKind accreditation program to help dog guardians find dog trainers who use humane training methods. Nicole Fenwick, manager, research and standards for the BC SPCA, says, "Dog training is not regulated, which puts B.C. dog guardians in a difficult situation when looking for training services for their dogs." To receive AnimalKind accreditation, companies undergo a rigorous auditing process to verify they follow AnimalKind dog training standards. Fenwick says, "AnimalKind recognizes companies that use evidence-based positive reinforcement training methods, making it easier for guardians to know who to trust." Reichert agrees, "This program is the nexus in bringing dog guardians together with knowledgeable and caring trainers in our communities."
The BC SPCA launched the first set of AnimalKind standards – for wildlife and rodent control companies – in 2018. Through a partnership with the UBC Animal Welfare Program, the BC SPCA, Vancouver Foundation, and the Peter Wall Institute for Advanced Studies provided funding to establish the program. AnimalKind standards for dog training – the second set of standards developed, were launched in January 2019. Voluntary standards for other pet care services like grooming, boarding, dog daycare and walking, were launched in January 2023.
Learn about AnimalKind accreditation, what to look for in a trainer, or find a trainer near you at animalkind.ca.
Daisy Dog Training offers services in Richmond and Metro Vancouver.