RHD has been confirmed as the cause of death in several pet rabbits living in downtown Vancouver. The BC SPCA urges area rabbit guardians to get their rabbits vaccinated. For more information about RHD and how to protect pet rabbits, please refer to our information sheet.
For more information see the June 21 news release from the B.C. Ministry of Agriculture.
Notice:  RHD public vaccination clinic
The BC SPCA Vancouver Animal Hospital is offering a public vaccination clinic on July 23 from 6 to 8 p.m. to help rabbit guardians protect their pets against Rabbit Hemorrhagic Disease (RHD), a highly contagious and potentially fatal virus that is affecting B.C.'s rabbit population. The goal of the clinic is to provide boosters for those vaccinated at last year's clinic and make the vaccine accessible to low-income guardians, those with multiple rabbits, or those who do not have a regular veterinarian.
A fee of $50 per rabbit will include the vaccine as well as a brief examination prior to receiving the vaccine. Guardians facing financial challenges or with multiple rabbits may be eligible for additional support; inquire at time of booking. "We want to ensure that area rabbit guardians have access to this important vaccine to protect their pets," says Dr. Emilia Gordon, BC SPCA senior manager of animal health. The BC SPCA Vancouver Animal Hospital is located at 1205 E. 7th Avenue. Call 1-604-879-3571 or email spcahosp@spca.bc.ca to reserve your spot.
Rabbit Hemorrhagic Disease (RHD) found on Vancouver Island for second year
Original story: May 6, 2019
Several feral rabbits in the Parksville area were found to have died of RHD in April with additional cases confirmed in Qualicum and north of Nanaimo in May. RHD is a highly contagious, lethal virus that is specific to rabbits. Prior to this March, the last suspected cases of RHD in BC were reported in mid-July 2018.
Due to increased risk, the BC SPCA has not accepted rabbits into the Parksville, Nanaimo, Comox, and Richmond branches since March 2018. For other Island, Lower Mainland/Fraser Valley, and eastern Interior locations incoming rabbits are vaccinated and quarantined upon intake. Additional control measures are also in place restricting some animal transfers and asking visitors to all BC SPCA shelters provincially who have been in the Parksville area to change clothing/ disinfect shoes and hands prior to entering the facility.
We encourage rabbit guardians to have their rabbits vaccinated. Guardians should contact their veterinarian with questions about the vaccine. For more information about how to protect pet rabbits, consult our information sheet (PDF).
Due to ongoing quarantine requirements and because rabbits tend to stay in care for a long time awaiting adoption, space for incoming rabbits will continue to be limited. Please contact your local branch before you go if you are looking to bring a rabbit into a BC SPCA shelter.
The BC SPCA continues to adopt out vaccinated rabbits who have completed their quarantine. We have many wonderful rabbits ready for adoption who can be viewed online.
Resources:
BC SPCA RHD Information Sheet for Rabbit Guardians (PDF)
BC SPCA RHD Information Sheet for Shelters, Rescues and Sanctuaries (PDF)
April 10, 2019 News Release from the Ministry of Forests, Lands, Natural Resource Operations and Rural Development and Ministry of Agriculture (PDF)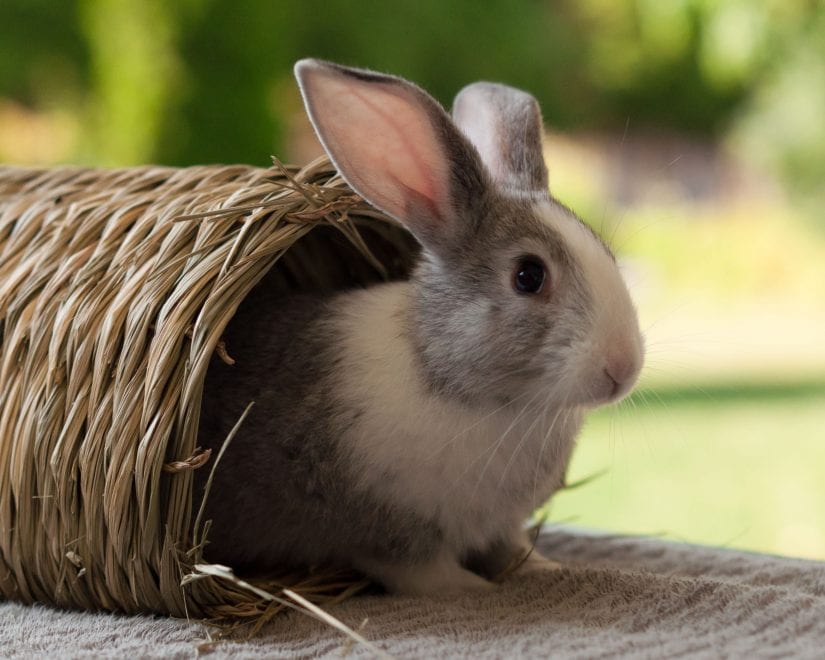 BC SPCA suspends intake of rabbits due to disease
Original story: March 2, 2018
The BC SPCA has temporarily suspended intake of rabbits into its Nanaimo shelter after tests conducted by the provincial government on deceased feral rabbits found on the campus of Vancouver Island University and in the Rotary Bowl in Nanaimo determined the rabbits died from haemorrhagic disease, caused by a calicivirus.
Rabbit haemorrhagic disease is an extremely infectious and lethal disease of rabbits. It is the third confirmed diagnosis of this virus in Canada, and the first in British Columbia.
The disease is exclusive to rabbits – other animals, including dogs and cats, cannot be infected.
Please see the news release (PDF) from the Ministry of Forests, Lands, Natural Resource Operations and Rural Development for further details.
The media contact listed with the release is: 250 356-7506.