Dog guardians may have noticed that sometimes, their four-legged friend growls when he's approached while eating, or when a toy gets taken away. But canines are born with the instinct to guard their resources, says Sarah Pennington, who owns and operates Yaletown Dog Training in Vancouver.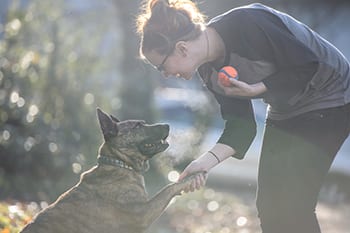 "Dogs are born with an innate desire to keep things away from people – as if their lives depended on it," Pennington says. "It's one of the reasons dogs are relinquished to shelters. Puppyhood is a great opportunity to prevent resource guarding from happening."
When your dog is playing with a toy or something simple, like a piece of Kleenex, approach the dog and take the item from him, then reward him with a small treat, and give the toy or item back, Pennington says, noting pet guardians should do this often.
"This teaches the dog it's fantastic when things are taken from them – they'll start to think, 'Oh good, she's going to take something from me," Pennington notes, in one of the BC SPCA's Tip Tuesday videos that received thousands of views on Facebook. "Never force a dog – never try to pull a toy from them – that can trigger an aggressive response, like growling."
Dogs often guard their food bowl while eating, Pennington says, so a good way to teach them that it's good when humans approach them when eating is to drop something even better – a favourite treat or snack – into their food bowl, then walk away.
"This helps prevent food guarding," she says.
Find more helpful tips for pet guardians and see the full resource guarding video on the BC SPCA's Facebook page, in the Tip Tuesday videos playlist, at www.facebook.com/bcspca.
The British Columbia Society for the Prevention of Cruelty to Animals is a not-for-profit organization reliant on public donations. Our mission is to protect and enhance the quality of life for domestic, farm and wild animals in B.C.