On November 11, Remembrance Day, Canadians will pause to remember and give thanks to those who have served and sacrificed for our country and those who continue to serve.
At the BC SPCA we will also give thanks to the animals who have played a critical role in past and present war and combat efforts and the service dogs who play a critical role in the lives of veterans living with post-traumatic stress disorder (PTSD).
When you ask Jeff, a veteran with 38 years of service, to describe his service dog, he doesn't hesitate: "lifesaver". He recalls the day when a co-worker dropped a brochure about service dogs for veterans living with post-traumatic stress disorder on his desk.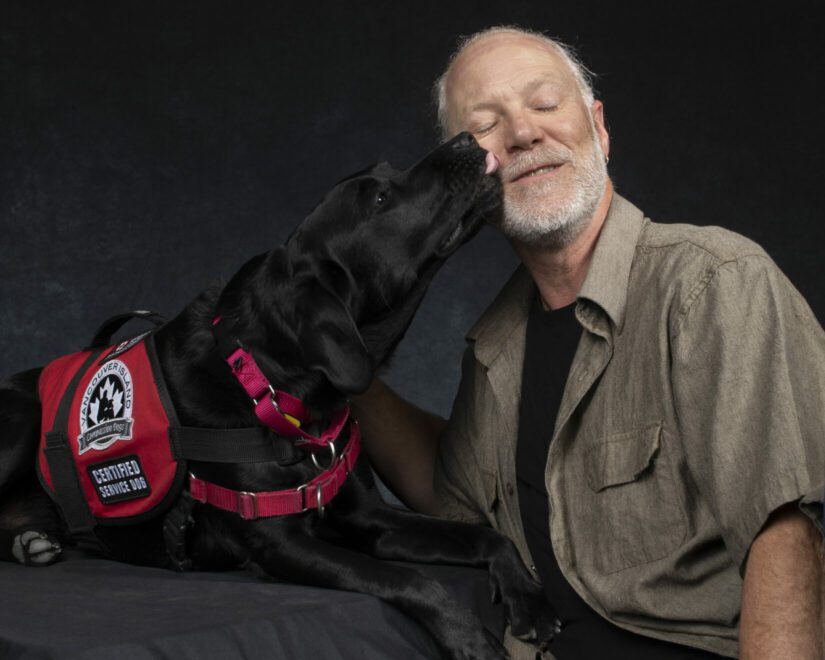 "I sent in my Vancouver Island Compassion Dogs (VICD) application the next day," he says.
He was matched with a service dog in April, 2017. He remembers the day they met like it was yesterday. One at a time four dogs were brought into the room with Jeff. The first dog didn't engage with him at all. Then Zeni, a black lab, walked in.
"Zeni picked me," Jeff says. "She walked right up to me, bonked me on the nose with her head and then rolled over."
After they were paired, Jeff and Zeni spent a year together in the VICD training program. That was the start of the changes Zeni and the program made to his life.
"It takes your mind off of your problems," says Jeff. "You focus on bonding and training with the dog. It gets you out of the house and builds routine in your life."
Trained to be able to detect when Jeff's blood pressure and heart rate are rising, Zeni calms and grounds him. She has been life changing when it comes to the nightmares he experiences.
"Before Zeni came into my life, I would have a nightmare, it would go full-fledged and I would be down for an entire week," he says. "Zeni senses when my heart rate and blood pressure is going up when I am asleep and she wakes me at 25 per cent, the adrenaline doesn't kick in, and it allows me to function for the rest of the week."
Zeni has also made a huge difference in Jeff's comfort level when he leaves his home.
"Zeni is an extra set of eyes and ears for me. In the past if I was walking and a bicyclist or pedestrian came up behind me, got too close, I would be scared and jump," Jeff says. "She lets me know when someone is approaching. If I am in a line-up at a store, she will stand behind me and support me." Zeni has Jeff's back.
"The positive outcomes of training with a PTSD Service Dog are without question," says Mike Annan, executive director, VICD Service Dogs BC & Alberta. "Graduates express that with the assistance of their certified service dogs, they have been able to mitigate their PTSD symptoms giving them confidence to re-integrate into society, and most importantly interact in healthy ways with their family, friends, and the community they live in."
Karen van Haaften, the BC SPCA's Senior Manager, Behaviour and Welfare says, "PTSD service dogs are an incredible example of the human-animal bond and its profound benefits. Companion animals can also be an important source of comfort to their guardians. It is often amazing to me how 'tuned-in' dogs can be to their guardian's emotional state."