Staff at the BC SPCA's Wild Animal Rehabilitation Centre (ARC) on Vancouver Island are hoping the public can help a short-eared owl fly again, after she was found by the side of the road with two severely broken bones in her left wing.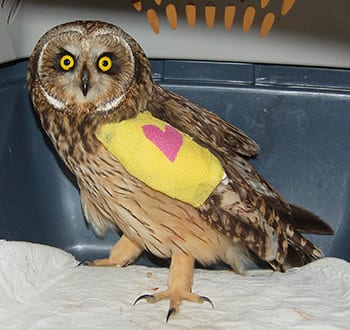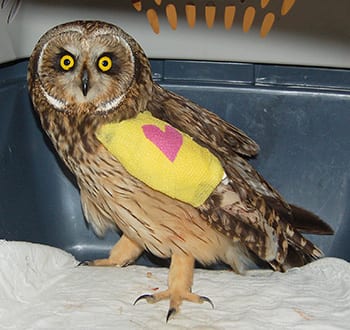 "She's a female adult Short-eared owl – a rare patient at Wild ARC – it's been many years since we last admitted one," says Heather Schmitt, assistant manager at Wild ARC. "Her injuries needed immediate surgical repair, as the bones needed to be pinned and stabilized in order for her to be able to fly again."
The feathered patient is expected to be in Wild ARC's care for about eight weeks as she recovers, needing medication for pain, to prevent infection and to promote healing, specialized staff care including hand-feeding and therapies to help rehabilitate the wing, and flight testing before release. If all goes well, the owl will be returned to the wild when she is fully recovered.
"She's a beautiful bird! We just want her to be able to fly again, and hunt for her meals the way owls are supposed to," Schmitt says.
The estimated medical costs associated with the owl's treatment and recovery is expected to be more than $4,000. A non-profit organization, the BC SPCA relies primarily on public donations to carry out its life-saving work  helping the province's most vulnerable companion, farm and wild animals.
If you can help this owl or other wild patients like her in need at Wild ARC, you can donate online at spca.bc.ca or in person at Wild ARC, at 1020 Malloch Rd., Victoria.
The British Columbia Society for the Prevention of Cruelty to Animals is a not-for-profit organization reliant on public donations. Our mission is to protect and enhance the quality of life for domestic, farm and wild animals in B.C.