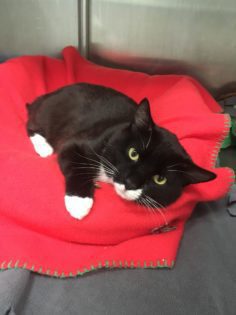 Staff at the BC SPCA's Prince Rupert Branch are hoping you'll be able to help them help Jo, a one-year-old domestic short haired cat who is suffering from an unknown urinary tract issue.
"This young man has changed so much for the better, and we want him to continue on that path," says Amy Stacey, manager, Prince Rupert SPCA. "Our vet is still trying to determine what exactly is causing him pain when he urinates." Along with the tests, Jo will need to receive weekly injections to help ease his pain. Costs for Jo's care are currently at more than $1,800.
"Jo came from a home with more than twenty cats, and he was very fearful when he first arrived. Now that we've gained his trust, he's been more social. We want him to be happy and at his best, and this care will play a big part in that." Stacey says it'll be about two months before Jo can be adopted out.
If you'd like to help Jo, or other cats like him, visit our medical emergency website,  or, you can visit the Prince Rupert Branch in person at 1740 Prince Rupert Blvd.