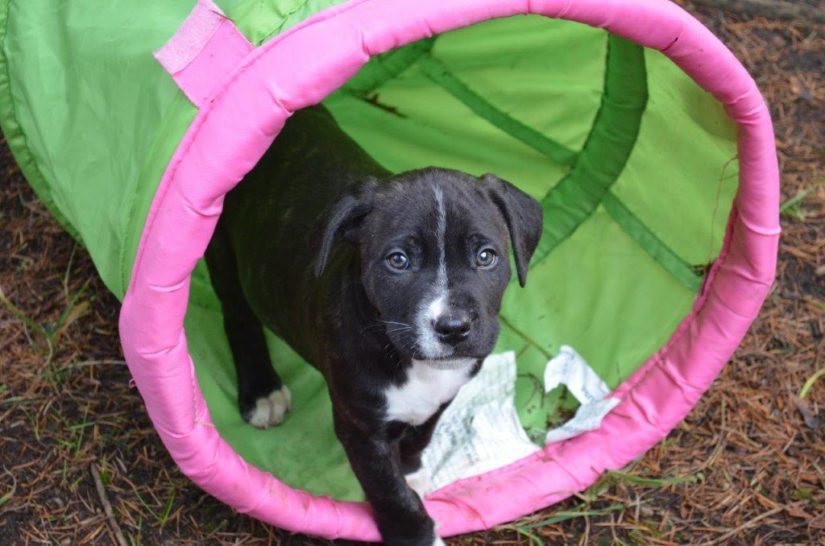 A few months back, a litter of eight sweet and playful pitbull puppies arrived at one of our branches. Their wagging tails and bright eyes made everyone's hearts explode, including that of AnimalKind dog trainer Jane Bowers of Dogs of Distinction. She happened to live nearby and had the perfect space for this large group of puppies, so she became their foster pawrent.
Taking the puppies into her care was not a difficult decision. Jane's training experience includes working with adult dogs to overcome behavioural challenges.
She knows the critical importance of socialization in the early stages of a puppy's life: "Improper and inadequate socialization as a puppy is far-reaching and can really contribute to anxiety and other issues for the puppy – not just as a puppy but as an adult dog."
Jane wanted to help by putting her knowledge into practice and fostering the pups until they were ready for adoption. Hannah, Rowen, Pippa, Leroy, Cooper, Monty, Jake and Ronny settled into their new foster home.
After a few days, Jane noticed the puppies were naturally inclined to climb on stools and rocks around her fully fenced property. She was taking her instructor's certification for Dog Parkour, so she gave them the nickname of "the Parkour Puppies."

The importance of socialization
Socialization is critical for puppies and occurs during the "sensitive period" stage of socialization – starting around three to four weeks and lasting until about 14 weeks. It involves exposing the dog to situations, sounds, people and places that they will face later in life.
During this time, puppies accept and like things they meet and have a pleasant experience with.
"They need to feel safe and secure. Introducing puppies to novel things at the most optimal stage of development helps them to be confident as adult dogs. New surfaces, things dangling from above that they can safely play with, new people, friendly well-socialized healthy dogs and toys," says Jane.
Socialization is more than having a pup get familiar with other dogs. It allows them to experience the world they will be living in as they grow. There are training activities you can do at home to help socialize your dog. You can also implement some of the tips Jane used with the Parkour Puppies:
Introduce puppies to food dispensing toys, so they get used to chewing on appropriate items.
Feed the puppy meals rather than leaving food out all day will help with housetraining.
Manage the puppy environment to make training easy. You can use gates to contain the puppy and identify when the dog needs to go outside.
Keep treats at hand to reward your pup for their work and progress.

Finding new forever homes
The Parkour Puppies were thriving in the positive environment that Jane had created. As the puppies were growing and learning socialization skills, they captured the hearts of families looking into adoption. One by one, Hannah, Pippa, Leroy, Cooper, Monty, Jake and Ronny found their forever homes and the Parkour Puppies became one, Rowen.
Jane and Rowen, a handsome pup, enjoyed each other's company. Jane had enrolled in a photography workshop, but a last-minute location change forced Jane to find someone to care for Rowen.
The instructor encouraged Jane to bring the pup along.  Rowen came to the photography class, a cute, well-socialized and friendly puppy no dog-lover could resist. A few days later, Rowen was adopted by the photography instructor and his family. A picture-perfect ending to the Parkour Puppies.
Get a good start with puppy socialization classes
AnimalKind dog trainers know the importance of socialization in the early months of a pup's life during the sensitive period.
Accredited dog trainers offer puppy socialization training that gives young dogs what they need to become friendly, confident adult dogs. You can work with your puppy right in your own home, and the trainer will teach remotely, watching and offering coaching and live demonstrations through video.
Get a good start and enroll in online puppy socialization training sessions with an AnimalKind dog trainer. All puppy stories deserve a happy ending.
---
Subscribe to AnimalKind
To find out a dog trainer near you or one who offers online training options sign up to AnimalKind.