Chevy Chase is a blonde eight-month-old Labrador retriever who needs to get well before he is ready to be adopted. This adorable puppy has contracted a fungal infection call ringworm, a red itchy rash that is contagious and can infect the skin of animals and people alike.
He needs to be treated and isolated until this infection has cleared up. We would prefer if he didn't have to spend his treatment time in shelter, because we know he would rather be in a home!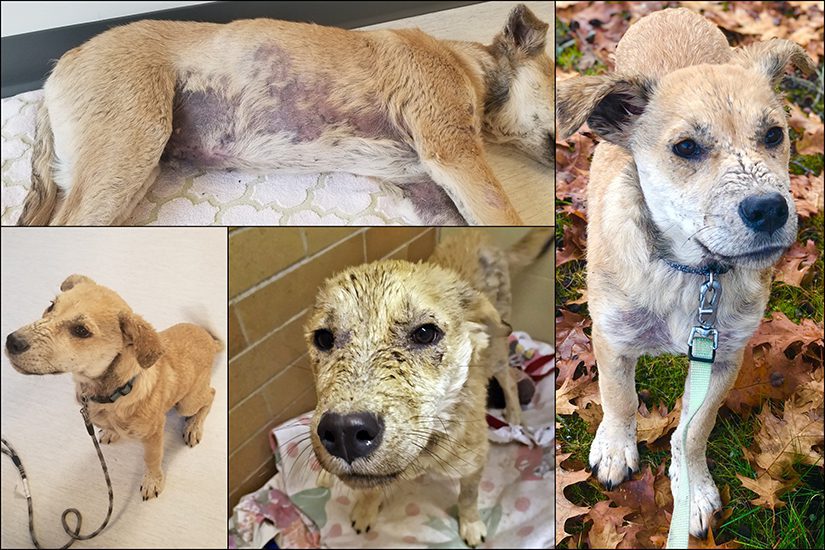 The foster must be located in the Lower Mainland. Chevy Chase would need access to a yard for bathroom breaks with no kids or other pets in the home. Branch staff will provide all medications, supplies and instructions.
Chevy Chase will need lime sulfur dips & medicated baths twice a week to soothe his skin, daily medication and a special diet. The foster must wear personal protection gear when interacting with Chevy to prevent cross contamination; this includes gowning up, wearing gloves, bootees and a hair bonnet. Training on protective equipment will be provided by the branch.
Chevy must be housed in a non-porous space, such as a tiled bathroom or mudroom, which could be thoroughly cleaned. He will need about two months of treatment before he's ready to enjoy a normal life as friendly and energetic puppy.
Chevy Chase is currently at the West Vancouver SPCA. The branch welcomes potential fosters to apply via email at fosterwestvan@spca.bc.ca. This puppy does have a forever home waiting for him. He just needs a selfless and kind hero who can help him get better first.

What is ringworm?
Ringworm is a contagious fungal skin infection that can affect most animals including cats, dogs, and humans.
The fungus lives in soil, and digging dogs can come into contact with it then pass it along to other animals. Puppies and dogs with weakened immune system are most at risk.
Symptoms
The most common symptom is circular areas of hair loss and scabby, inflamed skin. If the pet's paws become infected it can spread to their nails, which will become brittle or broken.
If you notice any of these symptoms take your pet to the vet to get them started on a treatment plan. Ringworm is treated with topical therapy (medicated shampoo or cream), anti-fungal oral medications and cleaning the pet's environment to get rid of all traces of the fungus.
Prevention
Ringworm can be prevented by giving your dog a clean, hygienic living space. However, some dogs may still pick it up due to exposure to the fungal spores or lack of immune function. Please speak with your family veterinarian if you suspect your pet has ringworm.