The two Chihuahua puppies wobble unsteadily on little legs, giving little whimpers and yelps on occasion, slowly making their way around the house where they live with their Mom, Pekoe, and foster fur-Mom Jessica Richardson.
Taken into BC SPCA care when they were only one day old, the female puppies, temporarily named Chai and Mocha, were among 20 dogs surrendered from a breeder operation in Chilliwack at the beginning of October after a BC SPCA cruelty investigation. Richardson took the trio into foster care when the puppies were only two days old.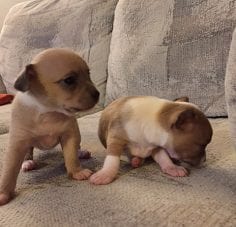 "They're growing bigger every day! They're good eaters," she says of the puppies, who love their mom's milk but now, at five weeks old, are starting to try some solid foods.
"They're so adorable – it's amazing to watch them grow. I've been fostering for the BC SPCA for the past two years… I love animals and love the fact that I can help them find their forever homes."
While the babies are thriving, their mother, Pekoe, was understandably, a little more nervous when Richardson took her home.
"Pekoe didn't have very many social skills and I had to train her to go to the bathroom outside," Richardson says, noting she was also underweight. "She was very nervous and didn't like the leash or the grass, at least at first – I'm not sure if she had ever been on a walk before."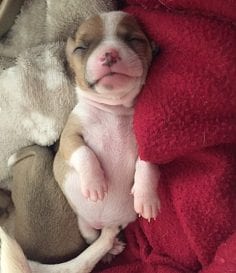 Protective of her babies, Pekoe was extremely sensitive to new noises and experiences, such as the TV, household appliances and going on walks – all common behaviour for dogs who have been kept in cages or kennels in breeding facilities their whole lives.
"At first, she didn't want me going near her or her babies – her comfort zone is her kennel for sure, which, to me, shows how she's lived in a cage for most of her life," Richardson says.
Now, Pekoe loves going for walks and snuggling with her favourite humans and with her puppies, especially in a nest of fuzzy, warm blankets. She has also gained weight and while she is still protective of Chai and Mocha, she will allow Richardson and others to handle them.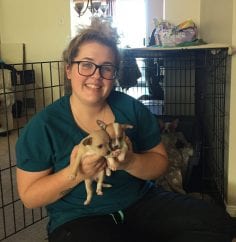 "She's done so well in foster care! She's only two years old and still has a lot of love to give," Richardson says. "The puppies are doing great! They're walking now and follow me around the house and seem to really enjoy their human snuggles too."
All of the dogs rescued from the breeder were surrendered to the BC SPCA. They had been living in areas with high ammonia levels, were soaked in urine and had long nails and badly matted fur; most of the older dogs required dental surgery as well.
All small, popular breeds than can be brokered easily – Maltese-yorkie mixes, Chihuahuas, Pomeranians, Papillon and Pekingese – the badly neglected dogs were part of a breeding operation that sold puppies for profit through local brokers.
The investigation showcases why new legislation passed this spring to enable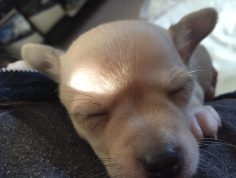 regulation of dog and cat breeding in B.C. is essential, says BC SPCA chief prevention and enforcement officer Marcie Moriarty.
"Luckily we were able to intervene as soon as we became aware of this case, but without regulations in the industry, substandard breeders who are not reported continue to operate and the animals are the ones who suffer."
In the meantime, Richardson says it is her job to provide as much love and training and socialization as she's able.
"It does take a lot of time and effort to help these sweet fur babies, but it's all worth it when you get to see them grow into happy, healthy and adoptable puppies who you know are going into a loving home," she says.
"I just have a huge heart for animals and I just love doing these kinds of things."
Other than one other puppy, also in BC SPCA foster care, and Richardson's foster fur-babies, the rest of the dogs rescued from the breeding operation have since been adopted into loving homes.