The province introduced proposed changes to the Prevention of Cruelty to Animals Act in the legislature today to better protect animals from suffering and abuse. The proposed amendments were developed on the recommendation of a government sled dog task force that was appointed earlier this year following the reported mass killings of sled dogs near Whistler.
Proposed changes introduced in the legislature today are:
Greater deterrence of future crimes through higher penalties. B.C. will now have the toughest animal cruelty penalties in the country with fines up to $75,000 and jail terms of up to two years;
Extending the statute of limitations for offences under the PCA Act from six months to three years;
Holding owners, companies and others who are responsible for animals more accountable for the welfare of those animals; and
A new ability for government to regulate specific activities pertaining to the use, care and protection of animals – including sled dogs and service animals such as dogs and horses used by police.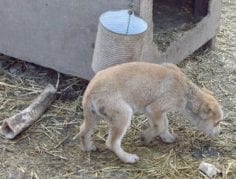 "The BC SPCA is pleased that the Government of British Columbia is moving quickly to implement a number of the recommendations made by the sled dog task force", said Craig Daniell, chief executive officer of the BC SPCA.
"While we have not yet seen a copy of the draft legislation, our organization is strongly supportive of initiatives that will increase penalties for animal abuse and extend the period under which offences may be brought. We look forward to providing further comment once we have had an opportunity to examine the bill."
For more information, visit the B.C. Ministry of Agriculture website to read their official press release.
Photo caption: The province of British Columbia introduced proposed changes to the Prevention of Cruelty to Animals Act (PCA) on May 11, 2011 based on recommendations made by a government task force appointed following the alleged killing of sled dogs near Whistler in April 2010. (Please note, the image shown above is for illustrative purposes only and does not depict an animal related to the Whistler case.)
The British Columbia Society for the Prevention of Cruelty to Animals is a not-for-profit organization reliant on public donations. Our mission is to protect and enhance the quality of life for domestic, farm and wild animals in B.C.