Linda Scott, a dedicated animal lover and community advocate, was honoured as the 2018 Volunteer of the Year at the BC SPCA's annual awards ceremony in Richmond on May. 4.
"Linda is a remarkable woman who has saved so many animal lives through her dedication and compassion," says Amy Stacey, manager of the BC SPCA's Prince Rupert Branch.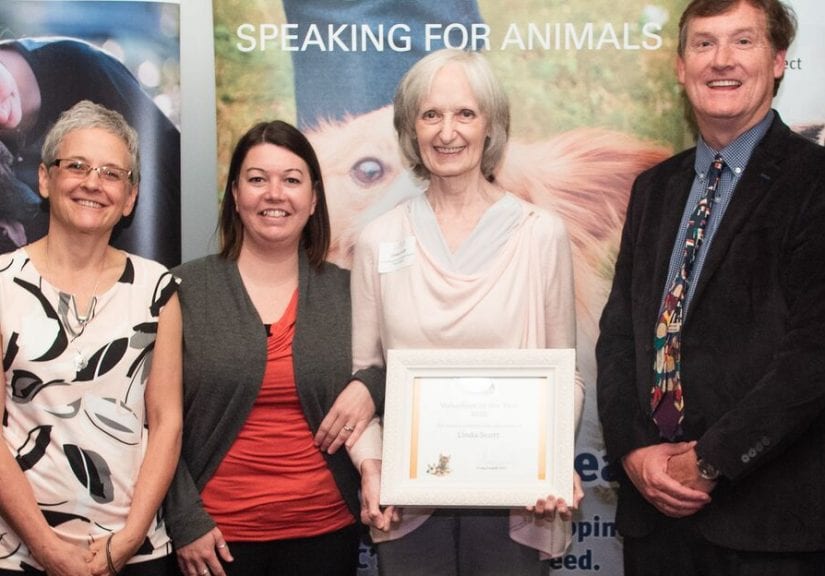 As coordinator of a trap-neuter-release program at the Prince Rupert SPCA, Scott partners with the Paws and Claws Thrift Store and the Pacific Coast Veterinary Hospital to care for countless colonies of feral and abandoned cats in the community. By feeding, vaccinating and sterilizing the cats, the program ensures that the animals receive urgently needed care, but are unable to breed, so that the colonies will eventually disappear through attrition.
In addition, Scott serves as the chair of the Community Council for the Prince Rupert SPCA, working with branch staff to promote the mission of the society and helping with numerous fundraisers throughout the year, including bottle drives and the annual spring tea and bake sale. Recently for National Cupcake Day, a fundraiser held by SPCAs and humane societies across Canada, Scott baked 16 dozen cupcakes to raise money to help animals in need in Prince Rupert. In addition, she has fostered countless cats and kittens for the Prince Rupert SPCA, ensuring that they receive love and care in a home environment while awaiting adoption.
"We simply couldn't do the work that we do on behalf of animals without the support, courage and wisdom of people like Linda," says Stacey. "She is so deserving to be honoured as the BC SPCA's Volunteer of the Year."