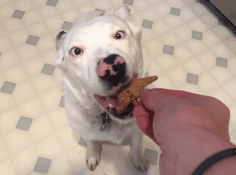 Sometimes it's not just about what you can do for your newly adopted pet, but what your new furry companion can do for you.
When Jenny met River at the BC SPCA Prince Rupert Branch in the spring of 2015, she was undoubtedly up for the challenge of raising and training a deaf puppy. It was a unique situation for her as it would be for most of us, but Jenny was committed to providing River with the best life she could have.
Three years down the road, we have an update from Jenny on her life with River:
We picked River up when she was about ten months old from the BC SPCA Prince Rupert Branch. River is deaf. She was born deaf and it is very obvious she cannot hear a thing.
We were intrigued by the thought of having a deaf dog, but also a bit intimidated. We knew it would be a lot of work and there aren't exactly a lot of resources out there on training a deaf puppy.

We had used hand signals for training our other dog and River picked up on this quite quickly. She is smart and eager to please, so she often checks in and watches our hands, or follows our other dog's cues.
River knows 'sit', 'lay down', 'stay', 'come', 'no', 'good dog', 'off', 'drop it', 'heel', 'shake a paw' and 'spin' all through hand and body movements. It really hasn't been much different than training any other dog.
River has one of the most unique and silly personalities we have ever known in a dog, and she manages to win the heart of everyone she meets. She is a perfect mix of intense and smart with sweet, gentle, lazy and goofy. One photo we have included is from after she played with a fresh strawberry she found in the garden and rolled on it, painting herself head to tail.

Some of River's favourite activities include soaking up the sun rays in summer or wrapping herself around the wood stove in winter, saying 'hello' to everyone she passes, hunting mosquitos, taking hikes and having long naps.
She loves playing and cuddling with her four-legged furry sister and with various friends she meets along the way. Her day is complete with a final cuddle on the couch with her people.
River's disability is not obvious and she doesn't let it hold her back. She is a dog who lives fully in the moment and does everything at 110%. Owning a dog that is deaf has been a fun and rewarding experience and has made us better dog owners. We couldn't imagine our life without her.
Thank you, Jenny, for choosing to adopt River and for not backing down from the option of bringing her home. We knew that life with River would be rewarding if her guardian put in the work and research it takes to provide a deaf pup with the best possible outcome. We are thrilled that she found you.