Like most people, Brianne Hogan didn't know what to expect from the COVID-19 pandemic. When news of the coronavirus first swept the country in early March, Hogan, a freelance writer, had just accepted a job offer in Vancouver and was prepared to make the cross-country move from her home in Prince Edward Island.
"No one really knew the severity of the pandemic at that time," says Hogan. "I think we were all hoping for the best, and that it would just dissipate sooner than later."
However, by the time Hogan had settled into her new apartment on the west coast, British Columbia was at a standstill and her new position went remote. Having worked from home for eight years and a somewhat nomadic life prepared Hogan for the first few weeks of the transition. But as the weeks soon turned into months, and without being able to safely connect to others in her community, Hogan says experienced bouts of loneliness and anxiety, and sometimes depression.
"You don't realize how much we need connection as humans until you don't have access to it," she says. "I was alone, 24/7. My friends and family live on the other side of the country, and I didn't know anyone here. It was tough."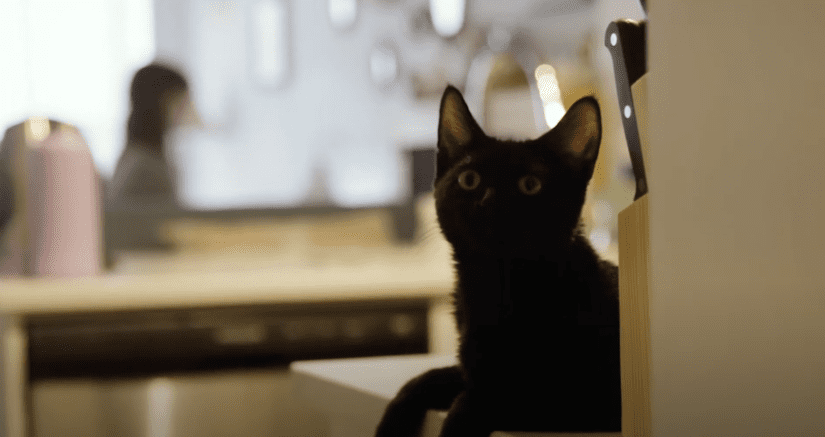 Longing for companionship, Hogan decided to adopt a kitten from the BC SPCA in Vancouver in July. She was soon introduced to Olive, an eight-week-old kitten, who was part of a litter whose mother, due to severe trauma, rejected them when they were merely a day old.
Hogan said that she felt like she was in a good place to adopt a young cat since she was working from home and therefore would have the time and energy to pay attention to her needs and demands. Plus, she figured she could use a little bit of entertainment in her life.
"She definitely keeps me on my toes. I was told she was a little firecracker," says Hogan. "They weren't wrong."
Nearly four months later, Olive has settled nicely into her new home with Hogan. The two snuggle in the morning, and Olive loves playing with her array of toys ("she's a bit spoiled," admits Hogan) or watching the birds from the living room window. She also loves watching Hogan cook and brush her teeth. "She's fascinated by the faucet. It's cute."
As the restrictions eased up, including a return to the office once a week, some sort of new normalcy has returned. For the time being, Hogan says she's content with taking things slowly and spending time with her furry roommate, and keeping her bubble olive-sized.
"Like a lot of people, my peace of mind is my priority right now," she says. "I don't think it's talked about enough just how important companion animals are to our mental health. Just having another living being around you whom you can talk to, hug, love — and who needs you — can alleviate so many of those tough feelings that come from isolation."
"She needed someone to take care of her, and I needed to feel a part of someone's life again," says Hogan. "We saved each other."