Staff at the BC SPCA South Okanagan/Similkameen Branch are hoping for the public's help with getting four-year-old Riva, a sweet black cat with stunning green eyes, the surgery she needs to relieve her discomfort. Found under a trailer with her two kittens, Riva has an old injury on her rear leg that causes it to collapse underneath her when she walks. This makes moving painful for her and if left untreated, could dramatically lower her quality of life.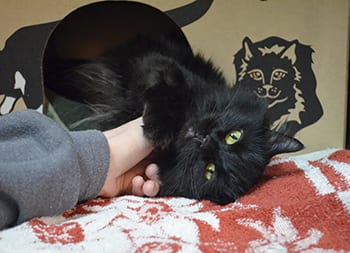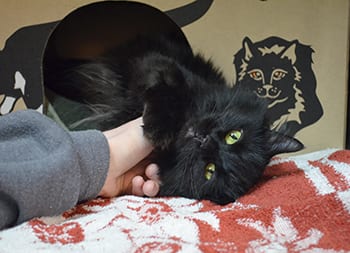 "Riva is a very sweet little cat whose lovely, long black coat shines in the daylight," says BC SPCA South Okanagan/Similkameen Branch manager Carolyn Hawkins. "Her purr and precious meows leave you unable to resist snuggling her. She just melts your heart."
Riva's medical costs are expected to total nearly $2,000 and she will require physiotherapy in order to help her recovery. During her recuperation, she will be living in a foster home for at least six weeks.
"Riva is such a lovely girl who was brought in with kittens and most likely had this painful injury while having the kittens and raising them," said Hawkins. "She deserves a great life without pain and lots of love!"
If you would like to help Riva or animals like her in need at the South Okanagan/Similkameen Branch visit spca.bc.ca/medicalemergency or drop off donations in person at 2200 Dartmouth Drive, Penticton.
The British Columbia Society for the Prevention of Cruelty to Animals is a not-for-profit organization reliant on public donations. Our mission is to protect and enhance the quality of life for domestic, farm and wild animals in B.C.