The owner of an emaciated golden retriever named Trooper who was dropped off at the BC SPCA's Maple Ridge Branch Feb. 28, pled guilty to animal cruelty charges today.  Michael Schneider was fined $2,000, given a 10-year ban on owning animals and was ordered to pay $430 in restitution to the BC SPCA towards care costs.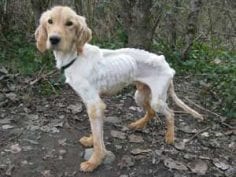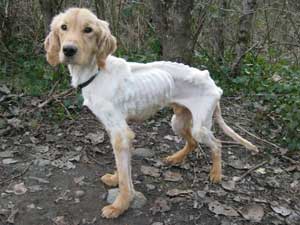 Trooper, whose matted fur was covered in dirt, mud and feces, was dropped off at the shelter by a man who claimed he found the dog near the intersection of 237th Street and Dewdney Trunk Road.
"A typical male golden retriever should weigh between 30 and 34 kilograms; Trooper weighed just 11 kilograms when he was brought to the SPCA," said Marcie Moriarty, the BC SPCA's general manager of cruelty investigations.
Through its investigation the BC SPCA identified the man who dropped off the dog, Mark Schneider, as Trooper's owner and recommended charges of animal cruelty earlier this year.
"We are pleased that Mr. Schneider acknowledged the serious offence he committed by pleading guilty today," said Moriarty. "However, given the grievous nature of this situation we would have also liked to have seen some jail time included in his sentencing."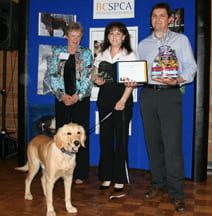 Moriarty said SPCA animal protection officers were shocked by Trooper's condition when he was taken into SPCA care. "He was literally a walking skeleton – it really is a miracle that he survived."
She said despite the horrific treatment he had endured Trooper was loving and affectionate with staff and showed an incredible determination to recover.
Trooper was adopted by a loving family in Maple Ridge, where he is in full health and continues to be lavished with care and attention.
For more information, read our original news story or watch our television appeal hosted by Jason Priestley.
The BC SPCA cares for 37,000 abused, injured and homeless animals each year and responds to nearly 6,000 complaints of animal abuse and cruelty.  The not-for-profit society is almost entirely dependent on donations for its services for animals in need. You can support this life-saving work and help rescue and protect many more animals, just like Trooper. Please donate today.
The British Columbia Society for the Prevention of Cruelty to Animals is a not-for-profit organization reliant on public donations. Our mission is to protect and enhance the quality of life for domestic, farm and wild animals in B.C.
Photo caption: Trooper when he first arrived at the BC SPCA (top) and months later at the BC SPCA AGM where he received the award for Animal Courage (bottom).