The BC SPCA and the Canadian Federation of Humane Societies have presented federal authorities with a report of concerns regarding horse slaughter in Canada. The Report on Horse Slaughter Practices in Canada is based on a review of recent video footage depicting inhumane practices at two of Canada's largest horse slaughter plants, one in Alberta and one in Quebec.
Approximately 100,000 horses are slaughtered in Canada each year to produce meat for human consumption, most of which is exported to European countries. This figure has doubled since operations at American horse slaughter plants were suspended in recent years.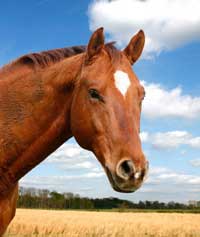 In a letter sent April 23, 2010, the BC SPCA and its national partner, the CFHS, have asked the Canadian Food Inspection Agency to provide an assurance that the documented concerns will be addressed promptly to ensure no further animals suffer in these plants.
Please write a personal letter or email to the Minister of Agriculture and Agri-Food, Hon. Gerry Ritz, asking him to ensure that the CFIA adequately monitors the slaughter of all animals at federally registered processing plants in Canada.
The BC SPCA is British Columbia's leading horse welfare agency and has cared for more than 100 neglected horses in the past year, at a cost of over $200,000.
To have the greatest impact, use our background information to prepare your letter, and express your concerns in your own words. No postage is required to send letters to the Federal Government.
Hon. Gerry Ritz, Minister of Agriculture and Agri-Food Canada
House of Commons
Ottawa, ON K1A 0A6
Fax: 613-995-7080
Email: Ritz.G@parl.gc.ca
Please also send copies to the BC SPCA, to your own MP and to the federal Standing Committee on Agriculture and Agri-Food:
Mr. Larry Miller and Committee Members
Standing Committee on Agriculture and Agrifood
Sixth Floor, 131 Queen Street
House of Commons
Ottawa ON K1A 0A6
Fax: 613-995-2106
Email: agri@parl.gc.ca
For more information, please email Geoff Urton, animal welfare coordinator or call 604-647-6404.
May 17. Update: CBC's The National aired an indepth look at horse slaughterhouses, including interviews with leading animal biologist Dr. Temple Grandin and BC SPCA's animal welfare coordinator, Geoff Urton.
The British Columbia Society for the Prevention of Cruelty to Animals is a not-for-profit organization reliant on public donations. Our mission is to protect and enhance the quality of life for domestic, farm and wild animals in B.C.