Have a budding bookworm or two in the family? If so, the BC SPCA is starting a new program they might want to know about. Book Buddies is a volunteer program for children in Grades 1-8 (and their parents) who can read at any level. If they're animal lovers, that's covered, too.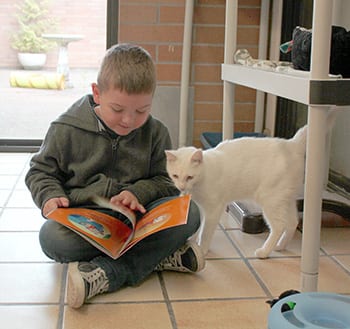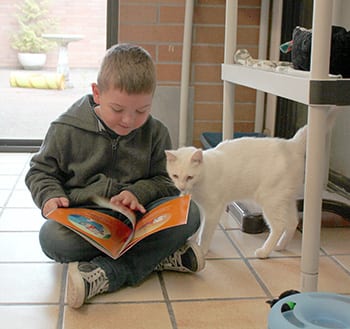 "Children can come into the shelter with their favourite book – or they can borrow one of ours – and read to the cats in our care," says Dragana Hajdukovic, manager of the SPCA West Vancouver Branch. "It's a program that benefits both the children and the cats – the children will practice reading and improve their reading skills, and the cats will get the benefit of socialization and human company, thus becoming more adoptable."
Research shows that having companion animals as pets offers many benefits to people, and with Book Buddies, the BC SPCA hopes to extend those benefits to youngsters from the community, Hajdukovic says.
The program will run from 3-4 p.m. at the West Vancouver shelter, Monday through Friday, starting Nov. 3. BC SPCA staff are also accepting donations of gently used books for their Book Buddies library as well.
"We think this is a win-win situation for the children in our community as well as the cats in our care," Hajdukovic says. "It's a 'purr'fect match!"
The British Columbia Society for the Prevention of Cruelty to Animals is a not-for-profit organization reliant on public donations. Our mission is to protect and enhance the quality of life for domestic, farm and wild animals in B.C.