It took 364 days, but one day short of being in BC SPCA care in Prince Rupert for one year, a cat named Arnie finally found his forever home.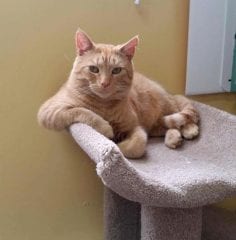 Surrendered into SPCA care with a horrible open wound on his neck, underweight and in rough shape, the orange tabby has come a long way.
"After many months of many different medications, his neck just wouldn't heal," says BC SPCA Prince Rupert Branch manager Amy Stacey.
"He had to have  a portion of skin removed from his neck and it was discovered he had a bacteria that wouldn't allow his skin to heal, meaning many more months of medication, lots of bandages, a thunder jacket and even booties for awhile."
Despite everything he had to go through, Arnie remained a superstar, Stacey says.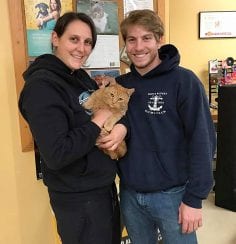 "Arnie took this all in stride and showed staff what an amazing guy he is – we all fell in love with him! It was hard not to," she says. "He's fantastic – a real chill guy who'll let you love him as much as you want."
Finding him a home was the next step, but despite showcasing him on the branch Facebook page, in the local newspaper and letting everyone who came in to adopt a cat know about him, Arnie remained in the shelter.
"On the day before he was going to be transferred (to another shelter for a better chance at adoption) through our Drive for Lives program, a special couple came in to meet him and fell in love," Stacey says.
"Arnie's happy ending finally happened and we couldn't be happier for him! It took nearly a year, but it was worth it. We'll miss him for sure, but so happy he found his 'fur'ever home. It sounds like he's fitting in beautifully."