National Pet ID Week kicks off this week. Without permanent identification, it is nearly impossible to identify lost animals and reunite them with their families. Approximately 95% of cats and 30% of dogs cannot be traced to their guardian with thousands of stray animals taken to Canadian shelters annually. This week serves as a great opportunity for pet guardians to make sure their pet has the best chance of being recovered.
The three heartwarming "lost and found" stories below showcase the importance of having your pet microchipped and tattooed and registered with the BC Pet Registry.
---
No-No
The last time Laura Brethour saw her cat was in August 2017. At the time, she says, he was an indoor and outdoor cat who came and went as he pleased, but was always nearby.
"He came when you called him and never missed a meal," she says. Until one day, he didn't come home. Weeks later, Brethour and her family lost hope. "We never thought we would see him again."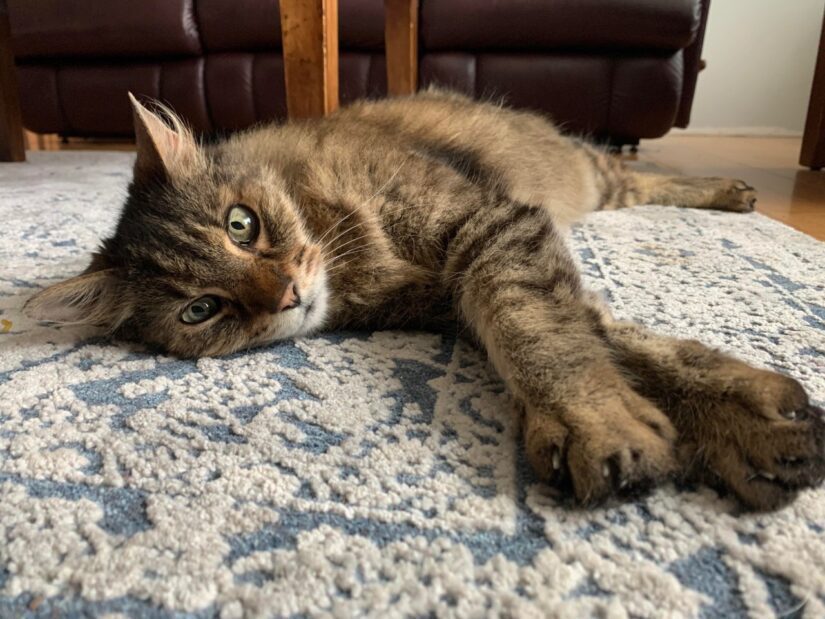 Until she received an unexpected phone call from the Nanaimo BC SPCA in January 2021 with some good news – No-No had been found.
According to Leon Davis, manager of the BC SPCA in Nanaimo , No-No was brought into the shelter as a stray. After a vet exam, staff worked on tracing his tattoo in hopes of connecting him with his family. Luckily, they were able to reach Brethour.
"I was beyond happy to hear from them," says Brethour. "I was in a little bit of disbelief until I finally saw him but we were so happy he was coming home. He's one of those cats you always have a story about. We talked of him often over the three-and-a-half years he was gone."
Brethour now has all of her animals microchipped and says she appreciate that she's able to update her contact information on the BC Registry website. "The ability to up-date our information on the website made me feel better in case this ever happened again. We really believe in the pet ID registry now."
Adds David: "This beautiful reunion is proof that keeping your cats pet ID up to date is super important and can easily reunite a lost friend." As for No-No, he's settling back into his old life quite nicely. "He was so friendly and affectionate with everyone when he came home," says Brethour. "He was so comfortable and familiar with home. He went to a lot of his old favourite spots just like he never left."
CLARA
Judy Venable's young cat Clara went missing on Mother's Day 2018.
"Our back door wasn't latched and fell open and both she and our other cat, Lizzy, got out," she recalls. "When we discovered they both were missing, Lizzy was still in the backyard, but Clara had scaled and jumped over our fence and ran when we tried to get her back."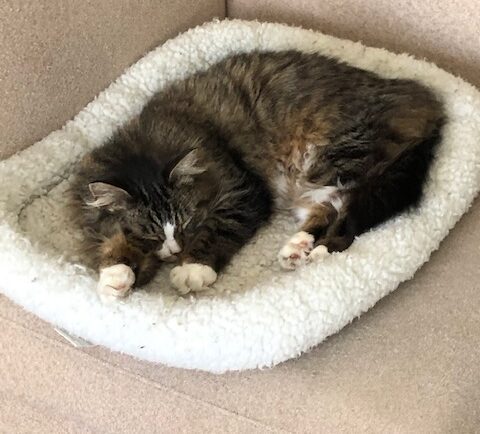 Once she realized Clara was missing, Venable says she postered the neighbourhood and reported her missing on the SPCA website. "I went out looking for her every night for a month."
After three months of no sighting, Venable says she lost hope that she would ever see Clara again. Then earlier this month, Venable's luck changed when the Vancouver SPCA called with great news – a mother and son had found Clara and broughther to the shelter.
"I was absolutely shocked and thought they might have the wrong cat," says Venable. "But they identified her by the tattoo in her ear and that is the only way we would have ever gotten her back. I still look at her and can't believe she is here!"
Now home, Venable says Clara is settling back at home like she never left. "It was back in love at first sight. While Clara and Lizzy didn't recognize each other at first, they are now playing and chasing each other, and sharing food and "both definitely indoor cats."
Venable says her situation is a prime example of why pet guardians should get their pet marked and registered. "If we hadn't had those things done, there would have been no way to identify her as our lost cat – three years later! If you put your animal on the registry, you will have the best chance available to you and your loved animal to be reunited regardless of how close or how far they travel."
NOIR
Lutrecia Macdonell says her cat Noir would be gone for only two hours at a time but he would always come back. However, one morning he got out of the house by accident and never returned. That was in November 2015.
"We searched everywhere," she says. "We made a big sign with his picture on it that he was missing. We lost hope. I never expected to see him again. I missed his cuddles."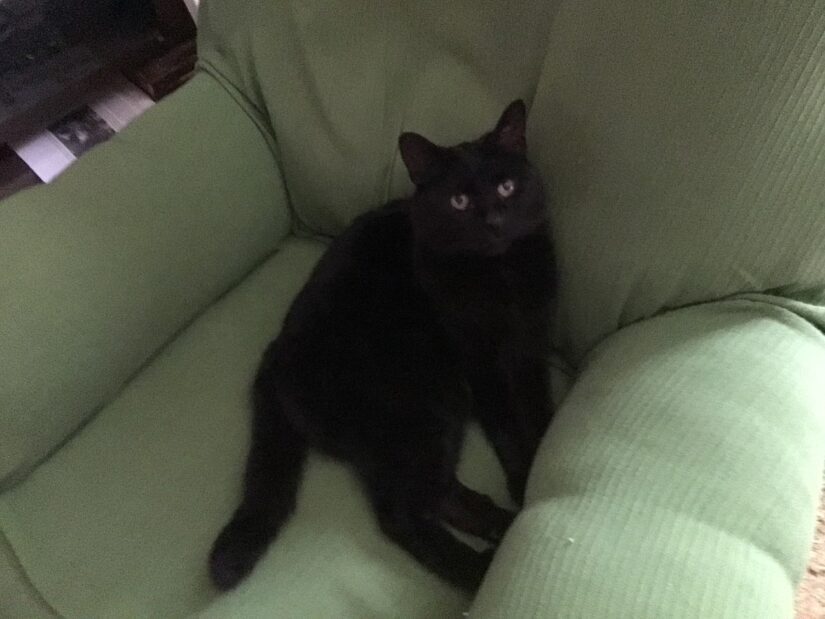 Good news landed earlier this year when Noir was brought into the BC SPCA in Prince George, safe and sound, after he was found outside of the local airport.
"A member of the public picked him up in the area around the airport as a stray," says Alex Schare, BC SPCA Regional Manager of Cruelty Investigations, North Region. "He was in surprisingly good health considering how long he had been missing."
While Noir's tattoo was hard to read at first, staff persevered and eventually were able to locate Macdonell to share the good news. "I was shocked. I couldn't believe it was him," recalls Macdonnell. "But the minute I saw him I knew it was him. He has a distinctive crook in his tail."
Now Noir has settled back at home, along with his cat sister, Spice, who, according to Macdonnell are "getting to know each other again." Macdonnell says Noir is doing very well despite his long journey away from home. "You can see his traits coming back. He's answering to his name again. He wants to cuddle all the time and play. It's like he's never left."
Macdonnell says she's grateful for Noir's permanent ID as it was the only way they would ever see him again. "I know he was returned because of his tattoo in the ear." According to Schare, Noir's case demonstrates the importance of having any sort of permanent pet ID. "There are so many circumstances under which a pet can go missing, and ID is one of the main ways to reunite them with their family. Without the tattoo we wouldn't have had any idea about his family, and they would never have known what became of him."
---
Permanent ID has little value unless it is registered. Without a contact linked to a permanent ID, a microchip or tattoo is simply a number.
By registering your pet's ID with the BC Pet Registry, your contact information is linked to their microchip, tattoo or license. At the BC Pet Registry, pet guardians can register their contact information with their pet's microchip, tattoo or license number.
This registration will enable any participating veterinarian, animal control agency or rescue group to identify the lost animal in their care and notify guardians — and have a happy ending like these families.