A Nanaimo man was sentenced to six months in jail and was given a 30-month probation period and a 25-year ban on having custody, or residing with, animals after brutally attacking his girlfriend's dog with a hammer.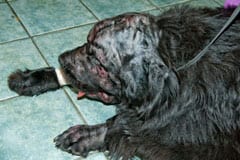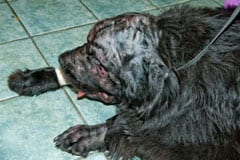 Matthew Dean Tremblay was sentenced Nov. 5 after pleading guilty to severely assaulting a Newfoundland dog named King in January of 2012. Tremblay gained access to King in a fenced yard while his girlfriend was out and repeatedly kicked, punched and struck the dog with a hammer.
King sustained punctures wounds to his cranium, severe bruising on his head and body, broken and cracked teeth, deep cuts, swelling and ulceration of his eye. He was also vomiting and urinating blood. The BC SPCA launched an investigation and recommended Criminal Code charges after a witness called authorities about the attack.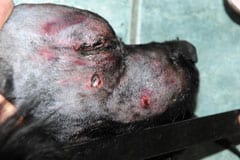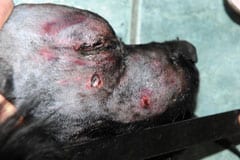 King was taken into BC SPCA care, where he received extensive veterinary treatment and made a full recovery. He is now living with his owner, Tremblay's former girlfriend, at an undisclosed location in another province. Tremblay has been ordered to have no contact with the woman.
In his sentencing, the judge said the nature of the crime indicates that Matthew Tremblay is a danger to society. "Anyone who could inflict such suffering on an animal … without the slightest sign of compassion must be regarded as a danger to the community…. I do not believe a human being with a healthy psyche could commit such an offence," said the Hon. Judge Gouge.
In addition to the jail sentence, 30-month probation and 25-year ban on having custody of, or residing with, animals, Tremblay was ordered to pay $5,233 in restitution for veterinary costs.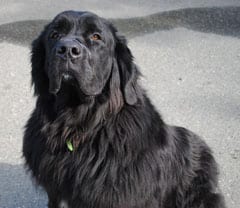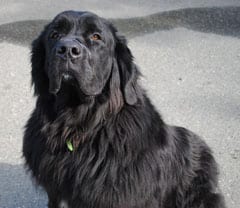 Lorie Chortyk, general manager of community relations for the BC SPCA, says the SPCA is pleased to see the court taking animal cruelty cases seriously. "This was an unspeakably brutal attack and it is a miracle that King survived and made a full recovery," says Chortyk. "We have to send a strong message that this kind of violence against animals will not be tolerated."
Tremblay was already in custody at the time of the sentencing for breaching a bail condition that prohibited him from having custody of an animal. Tremblay was arrested in October after the SPCA discovered that he was residing with a dog.
Photo caption (top): King, a Newfoundland dog who sustained serious injuries after being brutally beaten with a hammer by his guardian's boyfriend.
Photo caption (middle): King suffered severe bruising to his head as well as broken and cracked teeth.
Photo caption (bottom): King, after receiving extensive veterinary while in the care of the BC SPCA.
The British Columbia Society for the Prevention of Cruelty to Animals is a not-for-profit organization reliant on public donations. Our mission is to protect and enhance the quality of life for domestic, farm and wild animals in B.C.