She was longing for love in Nanaimo and she found it just in time for the holidays! Nacho is a 16-year-old cat who had been in the BC SPCA's care for 259 days. She was looking for a loving forever home where she could spend her final years, her wish came true!
"We are so happy that Nacho found her furever family," says Bonnie Pequin, manager of the BC SPCA's Nanaimo animal centre. "She is such a sweet cat who likes nothing more than finding a warm and cozy place to take a nap."
The BC SPCA utilizes its roster of volunteer foster homes to house its long-term residents. A big thank- you goes out to Nacho's foster mom who took such amazing care of her while she waited to be adopted.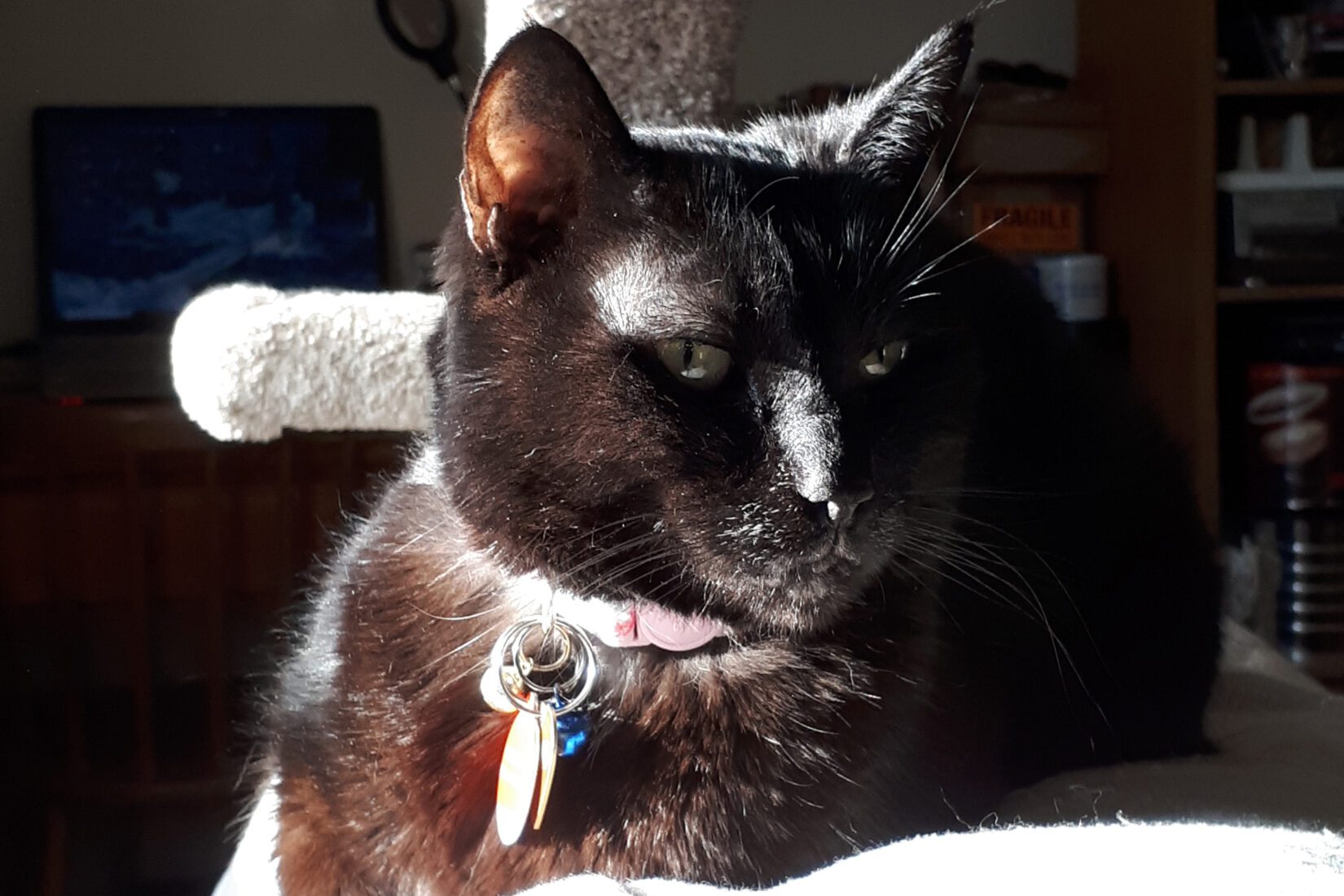 So who is Nacho's forever family?
Gael and her husband Robert lost their cat Sushi, a BC SPCA alumni, two years ago to kidney failure. They felt they were ready to have another cat join their family and started to look for a senior cat who needed a loving home.
"We looked online," says Gael. "We found Nacho and checked to see if she was still available and made the drive from Victoria to Nanaimo to meet her."
When they met, Nacho was a bit shy. "She likes to hide, so it was difficult to get a sense of her personality at the animal centre," says Gael. "But we were told what she had been like in the foster home and decided to adopt her." Gael was accustomed to caring for senior cats with health issues, so the fact that Nacho was experiencing some early renal insufficiency wasn't an issue.
They got a glimpse of her quiet and gentle nature on two occasions. "Nacho was so good in the car when we made the two hour drive from the Nanaimo animal centre to our home in Victoria," says Gael. "She didn't make a sound and when we took her to the vet to get her shots she was super cooperative."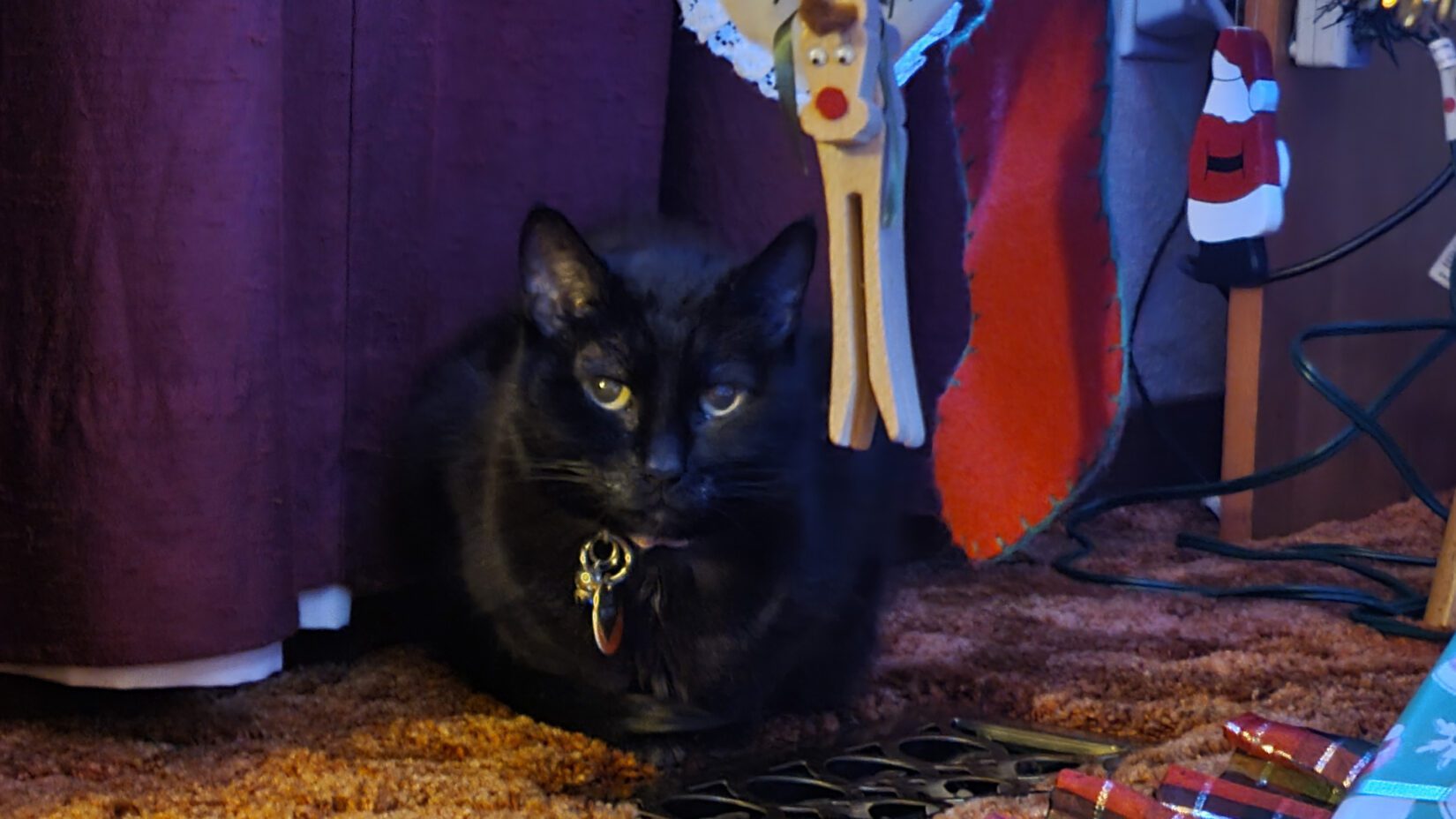 "Nacho is very happy. She has special places she likes to be in the house and she is getting used to people," says Gael. "The other day my son came over to shovel the sidewalk and when he came upstairs, Nacho was very friendly with him. We were pleasantly surprised that she didn't go hide behind the couch or under the bed like she has when other people have come into our home."
Nacho's favourite place to sleep is a BC SPCA Hide, Perch & Go™ box like the one she had when she was in the animal centre. "We had one from our previous cat, so I put a blanket inside to see what Nacho would do and she loves it. She also sleeps with the toy she got from the BC SPCA."
They find Nacho wherever there is warmth, whether that is near the heating ducts or by the window in the sunshine. "We put some suet on the tree outside of the window where her cat tree is," says Gael. "She just loves to sit on top of the cat tree watching the birds feeding."
Nacho loves food and is verbal when she wants to be fed. "She gets a treat after her dinner and sometimes she will sit in the spot before her dinner letting us know she is ready for a treat. She doesn't get one until she has eaten her dinner but she thinks if she sits there she might get more."
"We had such a wonderful time celebrating Nacho's first holiday with us," says Gael. "She got a special stocking filled with her favourite treats and some cuddles on the couch. We are so happy to welcome Nacho to our home and family."
Related Information
What does it mean to foster an animal? How do I apply?
Search our adoptable animals
How to adopt an animal from the BC SPCA
How to care for a cat