WARNING: graphic image in story below
It's been a year, but staff at the Campbell River SPCA are elated that Midnight is finally up for adoption. Brought in to the BC SPCA as a stray cat in January 2015, the eight-year-old female feline was suffering from horrible burns caused by a car engine.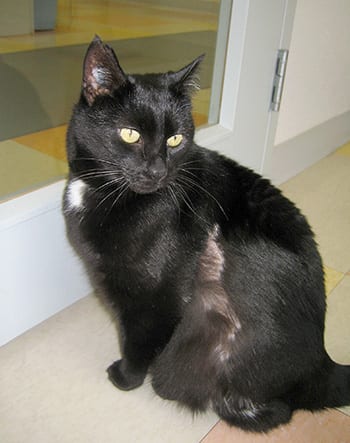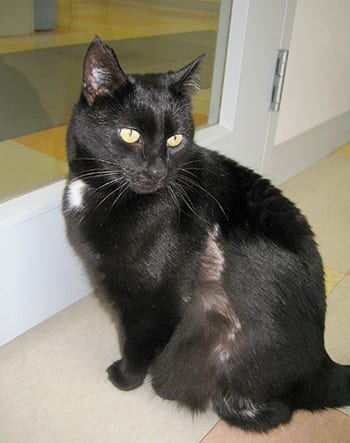 "She had a large, infected wound on her side that covered about a quarter of her body, and it was determined at the vet that she had a thermal burn that, unfortunately, damaged a good portion of her flesh on her left side," says Campbell River BC SPCA Branch manager Stephanie Arkwright, noting Midnight also had a burn on her rear left paw.
"After emergency surgery to remove dying tissue, and continued treatments, rehabilitation and recovery at the veterinary clinic and in a foster home, she is finally ready for her new home! We're hoping someone out there can provide a loving, forever home for this sweet girl who has been through so much."
As with every animal adopted through the BC SPCA, staff work to find the right match for both the humans and the pet, so they best suit each other's lifestyle and personality.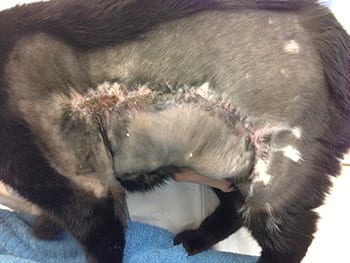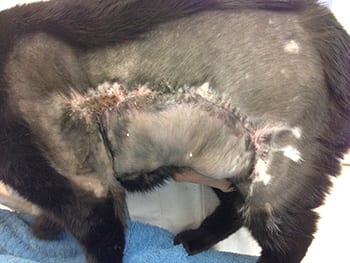 "Midnight is a lovely cat and she's been a champion through everything she's been through during the past year. She loves to be pet and will be wonderful with a new companion in a quiet household," Arkwright says.
"She is not overly fond of other animals and would not be a great match for a home with children, but has a lot of love to give to a new family or guardian that is willing to bring an older cat with a long tale to tell into their home."
Midnight should also be kept as an indoor cat, so she doesn't get into the same trouble with hot car engines again. Her story is a good reminder for drivers to "think and thump" before they start their engines when the temperatures drop across B.C., Arkwright notes.
If you think Midnight might be a good match for you, check out her online profile at spca.bc.ca/adopt or visit her in person at the Campbell River BC SPCA Branch, 891 13th Ave., Campbell River.
The British Columbia Society for the Prevention of Cruelty to Animals is a not-for-profit organization reliant on public donations. Our mission is to protect and enhance the quality of life for domestic, farm and wild animals in B.C.