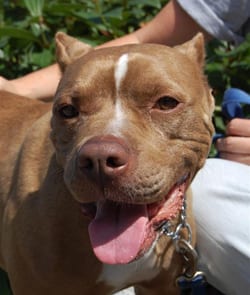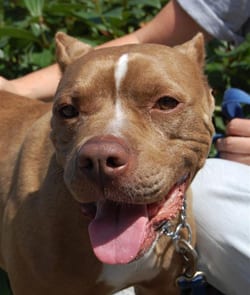 You've seen the video clip of Ginger and Thunder, and now so have hundreds of thousands of people across North America!  With what is possibly one of the funniest adopt-a-pet segment videos in recent memory, Ginger the kiss-a-bull Pit Bull and Thunder, a Border Collie/Sheppard cross, have become Internet sensations.
Meet the Stars
Ginger
Ginger, a four-year old Pit Bull, was brought into the Surrey Branch as a stray, after being abandoned, found tied to a post near a busy highway.
Ginger was brought to a local veterinary clinic where she was tattooed and spayed so that she would be ready for her new home. It was determined that Ginger would be a great dog for that special someone – a confident owner, with breed experience who was also patient, active and committed to teaching her manners. Shelter volunteers noted that Ginger is a smart girl who loves to learn and who is very, very friendly.
Thunder
Thunder had been surrendered to the Kelowna Branch on July 17, 2009. Thunder came from a home where he wasn't given any guidelines, was an outdoor dog and was left to run free at an orchard near Kelowna.
Our staff and volunteers were able to see through Thunder's energetic and un-harnessed ways to see that he was a sweet boy, in need of love and a family setting.
Thunder was to be adopted into a new home but then returned to the shelter because he was "too much responsibility". In order to try and increase his chance for adoption Thunder was transferred to our Surrey Branch, through the BC SPCA's Drive for Lives Transfer Program.
How it happened
On Tuesday August 11, Senior Animal Protection Officer Eileen Drever appeared on Global TV news' Adopt-a-Pet segment to showcase two dogs from the Surrey shelter. Eileen's hope was to show the Global TV audience how wonderful two dogs, Ginger the Pit Bull and Thunder, a Border Collie/Sheppard cross, are and to raise interest for having them adopted into loving homes. But not everything went as planned…
If you haven't seen the clip yet, please sit back and enjoy. If you choose to watch this video at work please make sure that it's okay to have your co-workers hear you laughing hysterically!  The video has also aired on CNN.com and on Inside Edition.
Visit our YouTube channel to watch this video, and many more.
The British Columbia Society for the Prevention of Cruelty to Animals is a not-for-profit organization reliant on public donations. Our mission is to protect and enhance the quality of life for domestic, farm and wild animals in B.C.