They were tossed away like trash; left for dead in a dumpster in Vancouver's Downtown Eastside. Luckily, Good Samaritans heard their cries, found the box they were in, and brought the tiny, underweight kittens to the BC SPCA.
"They were so small when they came to us back in February," says Jodi Dunlop, manager, BC SPCA Vancouver animal centre. "It took a lot of work to get these kittens back on track."
Dunlop adds that a veterinary examination determined that one of the kittens had a broken pelvis and trauma to the face and all three were flea infested and had internal parasites. The kittens required a round-the-clock syringe-feeding regimen because of their age.
Did Jam, I.H.O.P. and Bons get their happy-ending? You bet! And they grew up to be the most beautiful cats!
Jam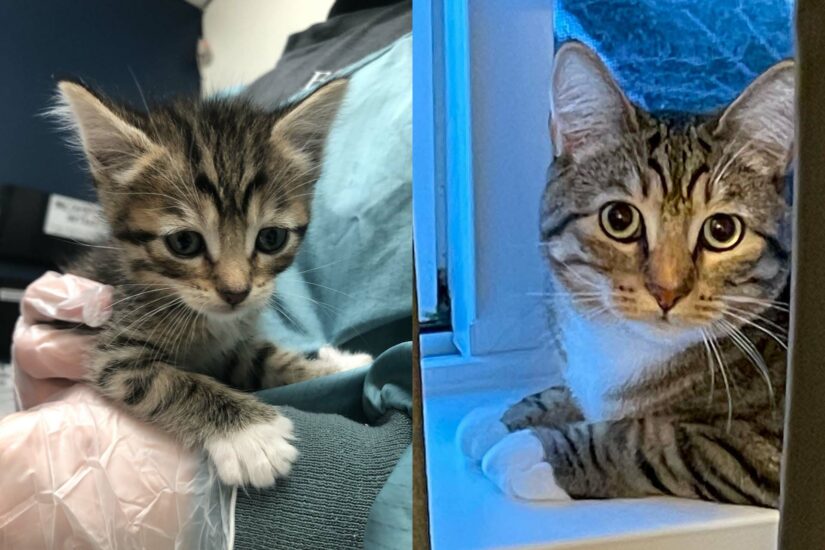 Jennie had been looking for a kitten for quite some time. When she saw Jam's face on the BC SPCA website she immediately texted her husband. "I was drawn to her right away," says Jennie. "I didn't know anything about her back story; I just knew I wanted to make an application to adopt her and try to bring her home."
When they met her, all three of the kittens were in the cat kennel. "Jam's brothers were so rambunctious," says Jennie. "Jam was a little more timid, a little hesitant to come out and greet us."
That all changed when they got Jam home. "Within minutes Jam was playing with us and running around the house," says Jennie.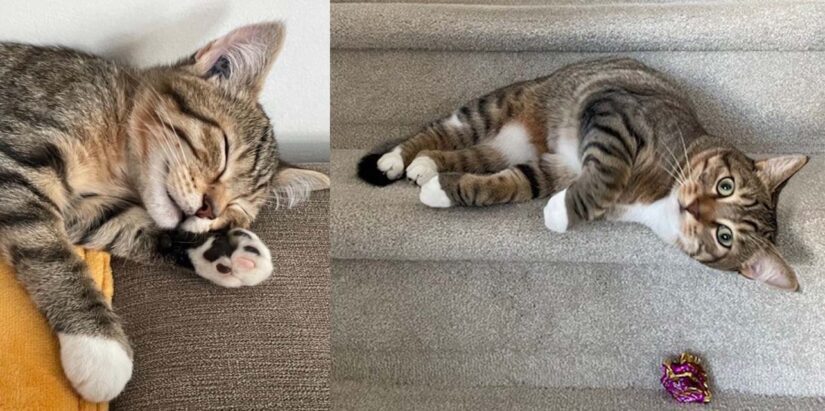 One of Jam's favourite things to do is play on the stairs. "She loves it when you throw a ball or a mouse up the stairs and as it bounces down – she rolls or slides down the stairs to chase after it," says Jennie. "It is so adorable."
Jennie adds that Jam is still a little jumpy with loud noises and she tends to hide when there are people in their home she doesn't know, but once she figures out they are cat people she warms right up to them.
"We are looking forward to celebrating the birthday we chose for her on January 14," says Jennie. "Having her as part of our family was definitely meant to be. We didn't change her name because J.A.M. are my initials!"
I.H.O.P.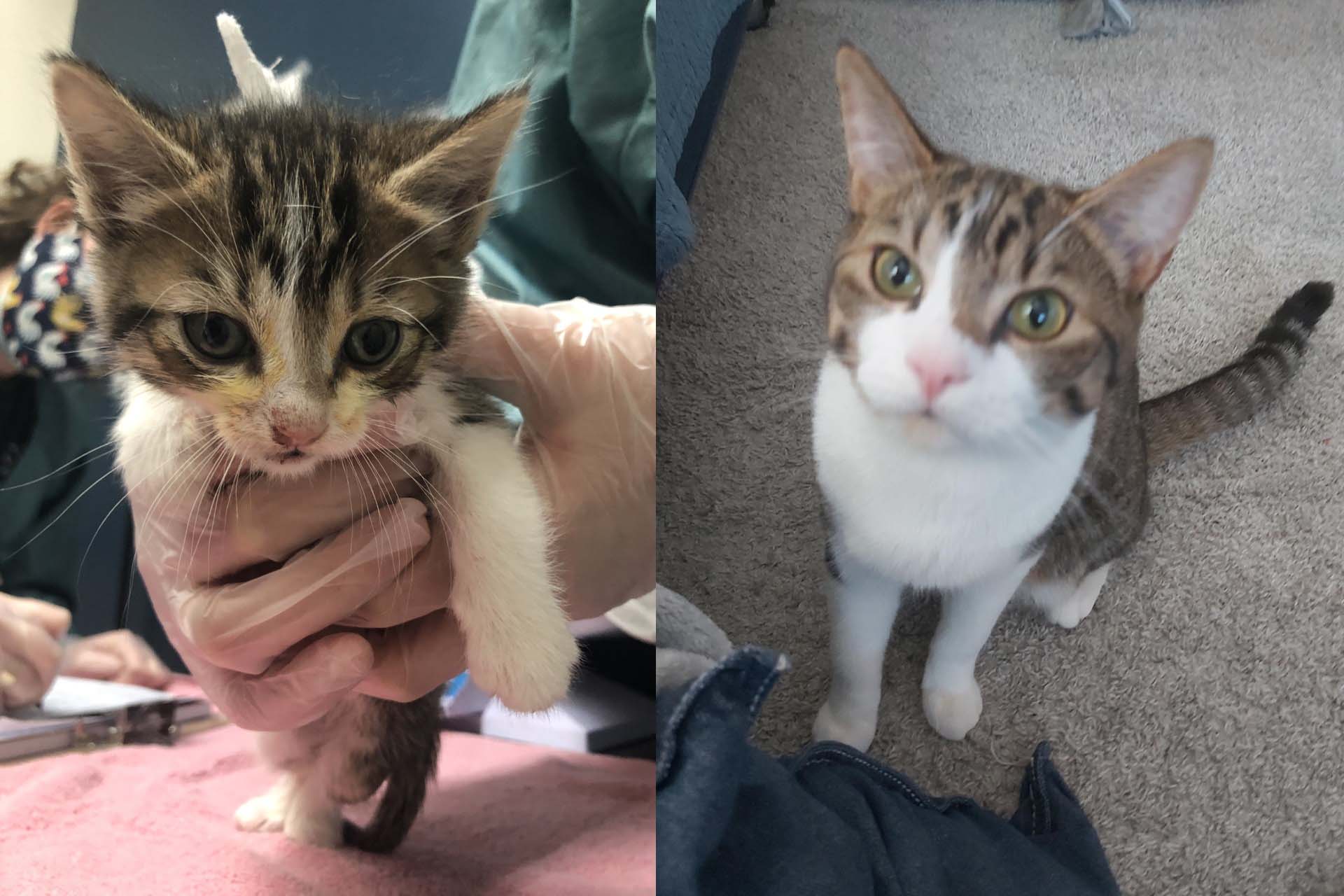 Rishma and her family fell in love with IHOP, now Wookiee, right away. "When we first met him at the BC SPCA, he was more interested in exploring his surroundings," says Rishma. "He wasn't as timid as his siblings. We were smitten."
The family had done a lot of work to get their home ready for Wookiee. "We were very careful and set up our basement bathroom as his home base," says Rishma. "He started examining the nooks and crannies right away. We also put up six shelves high on the walls of the basement so he can climb and jump. We made a whole cat walk for him. He loves it."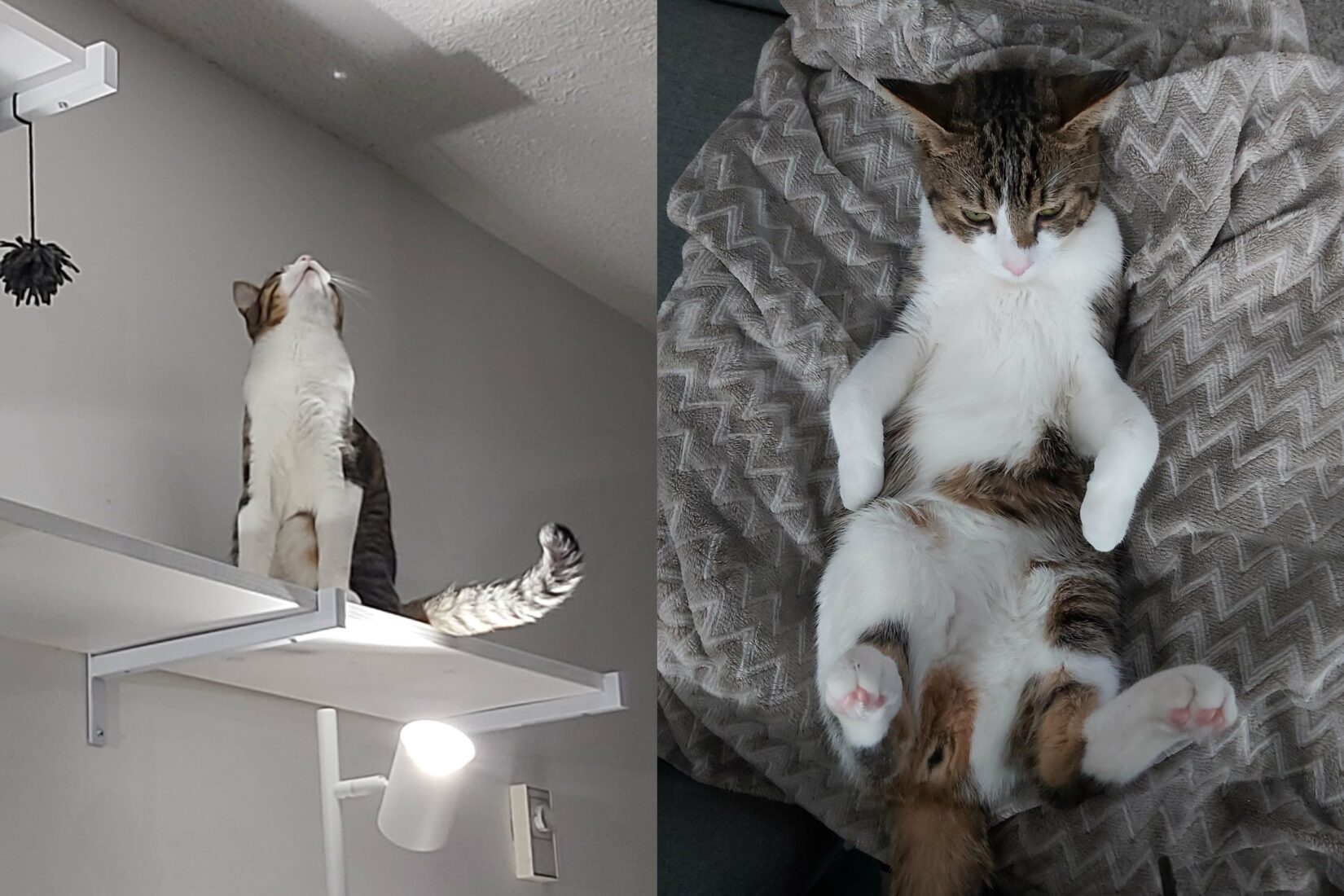 Rishma adds that Wookiee is the kitten that had the pelvis injury, but it has healed well. "He may get arthritis later in life because of the injury, but it doesn't slow him down at all right now."
Wookiee loves to play hide and see with the whole family. "He will come and swat us gently and then run and hide. He will meow until one of us finds him. When we do, we lightly tap him and then we hide and he runs to find us. He does it with everyone in the family."
Rishma adds that Wookiee has gotten very affectionate since they got him in April. "He loves to 'mark' us with head butts all over our faces," says Rishma. "We are so happy to have him. He has brought us so much joy. He has been life-changing for our whole family."
Bons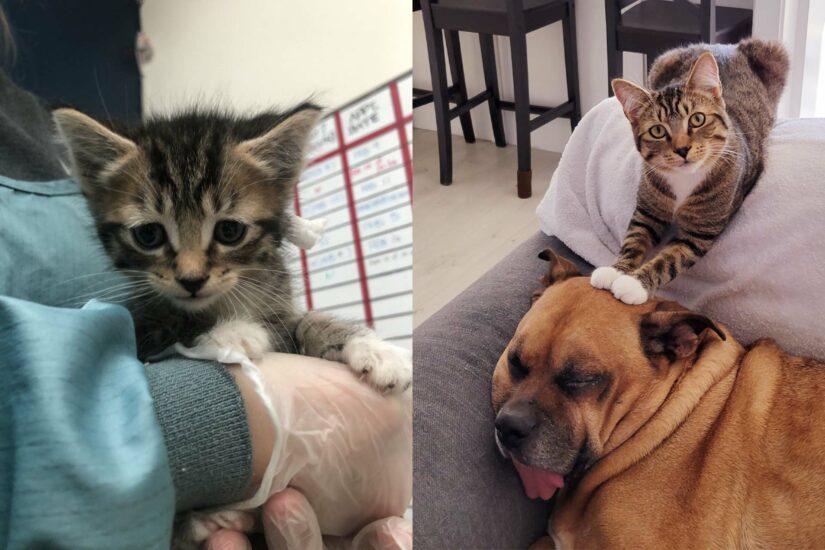 Christina and her husband Matt fondly remember their first meeting with Bons, now Bugs. "Bugs was sleeping and not too active. Matt reached into the cat kennel and let him sniff his hand. Bugs snuggled right into it. My four-year-old daughter Harley thought he was adorable."
They knew a little about Bugs history. "We found out more when we met him at the animal centre," says Christina. "We just wanted to give him the best home and life possible."
When they got Bugs home, they were prepared for a slow introduction to their dog Mars and the rest of the house. "We set up a room for Bugs, but it only lasted the first night. He clearly wanted to get out and meet everyone," says Christina. "Once he was out, he immediately stole the dog's bed. Our ninety-pound dog was whining to get the new two-pound cat out of his bed."
Mars has held firm on his boundaries with Bugs. "Bugs tries to snuggle up with Mars all the time, but our thirteen-year-old dog isn't having it."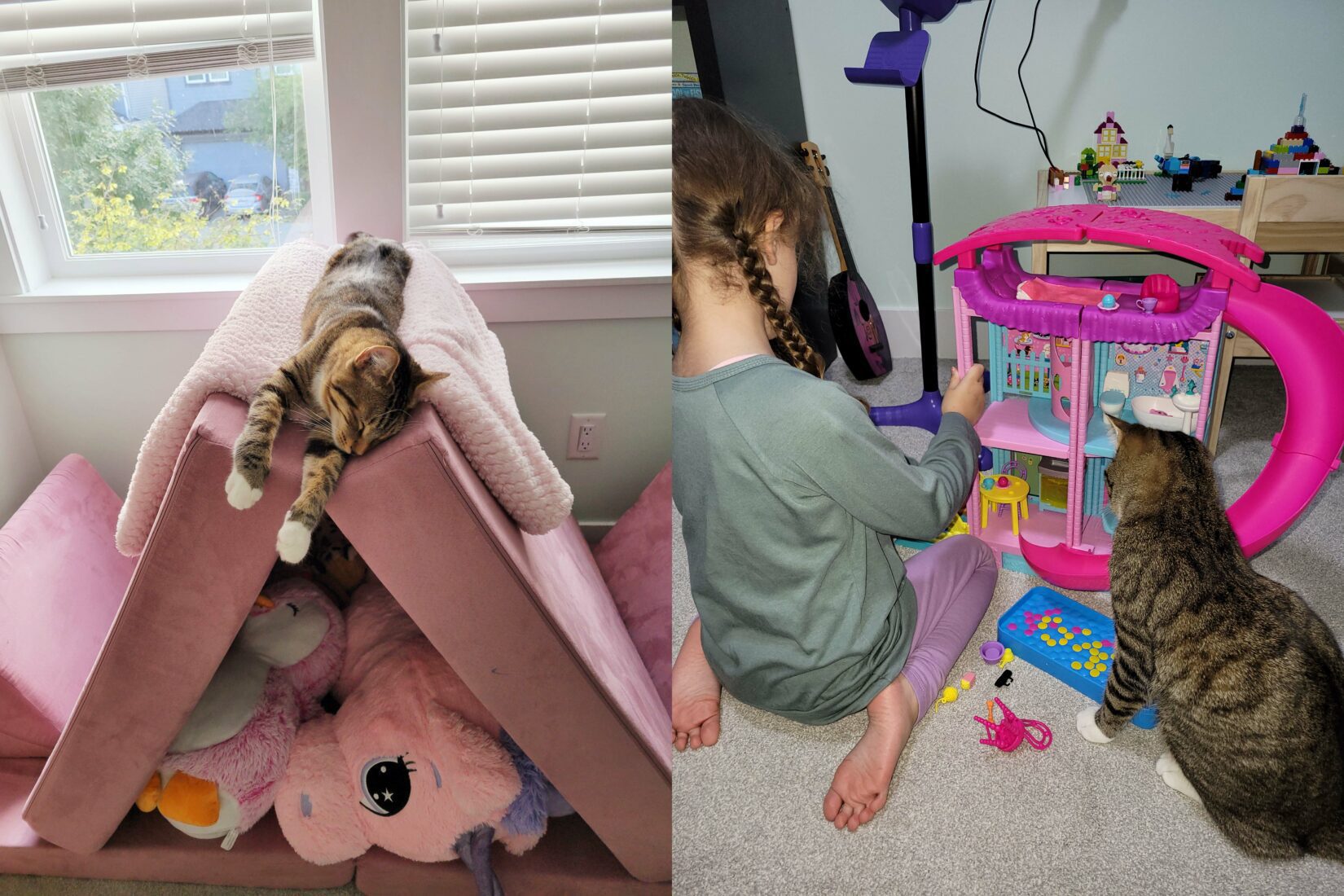 Christina adds that Bugs is a huge fan of zoomies. "Harley has treated Bugs like a dog ever since we got him. She taught him how to play fetch and she puts treats under cups and gets Bugs to guess which one they are under."
"Bugs is such a great cat," says Christina. "We are so happy to have him in our family."
Three kittens found abandoned in dumpster need your help
Original story: February 18, 2022
The BC SPCA is hoping you can help give three tiny, underweight kittens found abandoned in a dumpster in Vancouver's Downtown Eastside a second chance at a happy ending.
"These three little kittens are small for their age and clearly had a traumatic start to life," says Jodi Dunlop, manager, Vancouver BC SPCA. "They were left for dead in a box in a dumpster. We are so thankful to the good Samaritan who found them and the couple who stopped to help get them to the shelter for care."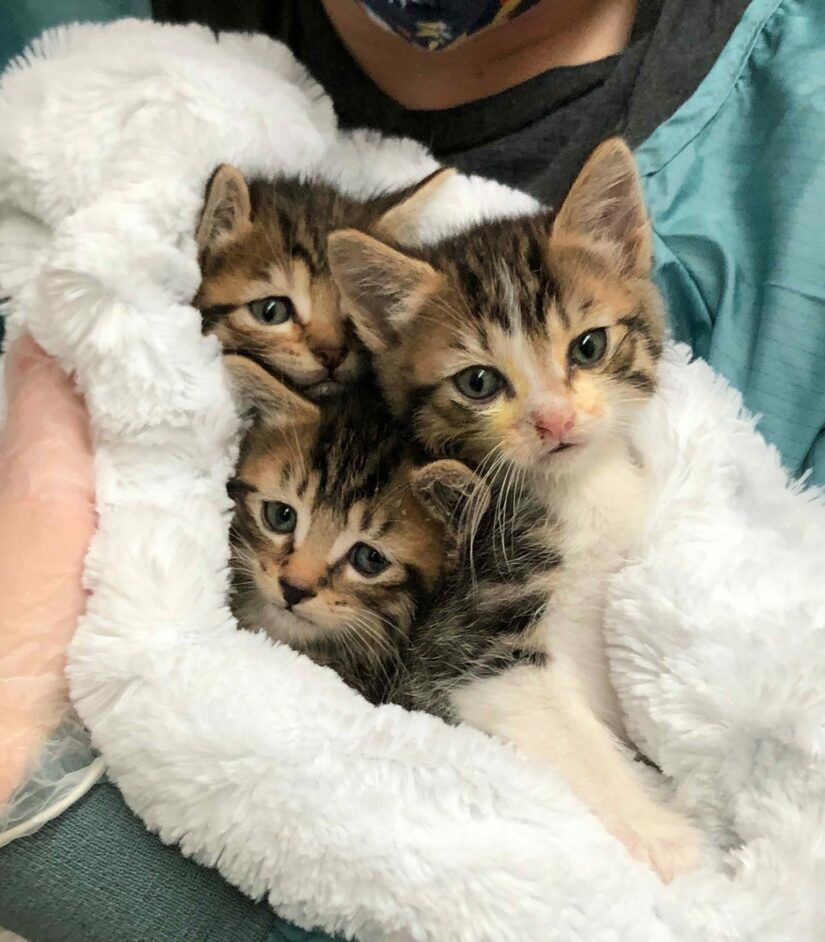 The three kittens were immediately brought to a veterinarian for treatment. It was determined that one of the kittens had a broken pelvis, trauma to the face which included bleeding in the eye and nostril and difficulty breathing. All three of the kittens were flea infested and had internal parasites.
When Petsecure learned about the kittens' terrible experience, the company generously offered to match all medical donations up to $3,500 to help with their care and other animals who need urgent medical help.
"These kittens are so cute," says Dunlop. "Despite what they have been through, the current prognosis for all three of the kittens is good."
All of the kittens require a special feeding regimen because of their age and will be vaccinated, de-wormed and spayed or neutered. The kitten with the broken pelvis and trauma to the face will require an ongoing series of x-rays and pain control. They will be in the BC SPCA's care for at least four weeks.
The BC SPCA is grateful to all the animal lovers who have generously supported efforts to help these abandoned kittens. The match from Petsecure has been surpassed which means the BC SPCA can help even more animals who need extraordinary medical care. Our thanks to everyone, and an extra big thanks to Petsecure, for supporting these three little kittens!