When nine-year-old Sutter Rowse, who loves cats, saw a story about Hazel and the need for care for her injuries, he knew he had to do something.
He and his mom, Leslie, came up with a "sweet" way to help her…selling homemade cinnamon buns by donation. Sutter's mom posted about the fundraiser on a community page and the orders started coming in. Together they baked and sold 15 dozen cinnamon buns raising $850!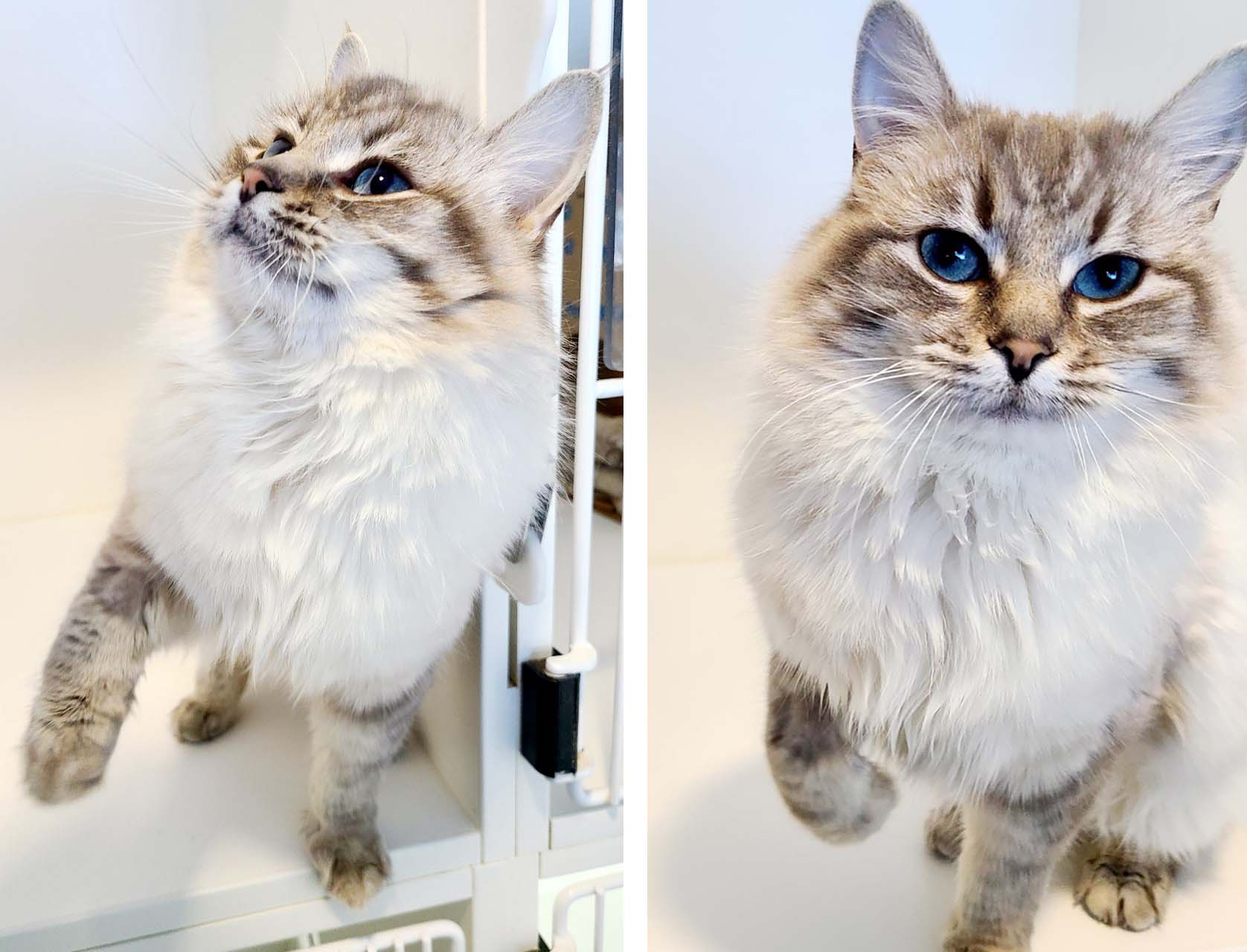 When they dropped off the money to the Williams Lake BC SPCA, Sutter got a chance to meet Hazel – it was love at first sight. Sutter returned to visit Hazel with his mom a number of times. His mom had already decided that she was coming home with them, but on their last visit at the shelter, she told Sutter that Hazel had a new owner and asked him to guess who it was – he guessed it was them!
Hazel is recovering from her injuries at her forever home with Sutter.
Stray cat with broken hip needs your help
Original story: Feb. 7, 2022
The BC SPCA is hoping you can help Hazel, a friendly and affectionate Siamese-mix cat who was found abandoned at a transfer station near Williams Lake.
"A good Samaritan found Hazel scavenging for food at the local transfer station in Anahim Lake and brought her in," says Liz Dighton, manager of the BC SPCA in Williams Lake.
Hazel underwent a spay operation and during the treatment a hip injury was discovered. "Cats are particularly good at hiding their injuries," says Dighton. "They don't want to show weakness and become prey."
It was determined that Hazel's femur head was broken at the base and necrosis had set in, which was causing Hazel extreme pain.
"The injury was likely caused by a traumatic event," says Dighton. "This little lady will need surgery and post-operative care, including physiotherapy."
Dighton says Hazel has been super social and affectionate since day one, even when she was in pain, and has become everyone's friend at the shelter.
Hazel will be in the BC SPCA's care for at least three weeks and possibly longer depending on how quickly she heals from her injuries.